A quick view is an eCommerce feature that allows website visitors to view product summary on a popup modal window instead of going to the product detail page. Adding a quick view plugin can provide your WooCommerce store with a quick view functionality. With the help of quick view plugins, you can make your customer experience better and can also increase your site revenue as it improves the usability of the product catalog.
Free WooCommerce Quick View Plugins
If you wish to improve your overall e-commerce store functionality & increase sales do check our blog post best WooCommerce plugins as it includes essentials WooCommerce plugins for your online store.
Below is the list of best WooCommerce Quick View plugins that will help you to enhance user experience and increase sales through your WooCommerce e-commerce store.
Addonify WooCommerce Quick View

Addonify WooCommerce Quick View Plugin is the best WooCommerce quick view plugin for your online store. This plugin adds a functionality in your online store that enables your customers view the summary of the product in a popup modal box without the need to go to the product detail page.
Features
Simple, lightweight, and well optimized.
User friendly, interactive, and responsive design.
Easy to setup and use.
Color options for quick view button and modal box customization.
Select, sort, and display product's content in the modal box.
Design and layouts customization.
Smooth animations and transitions for modal box opening and closing.
YITH WooCommerce Quick View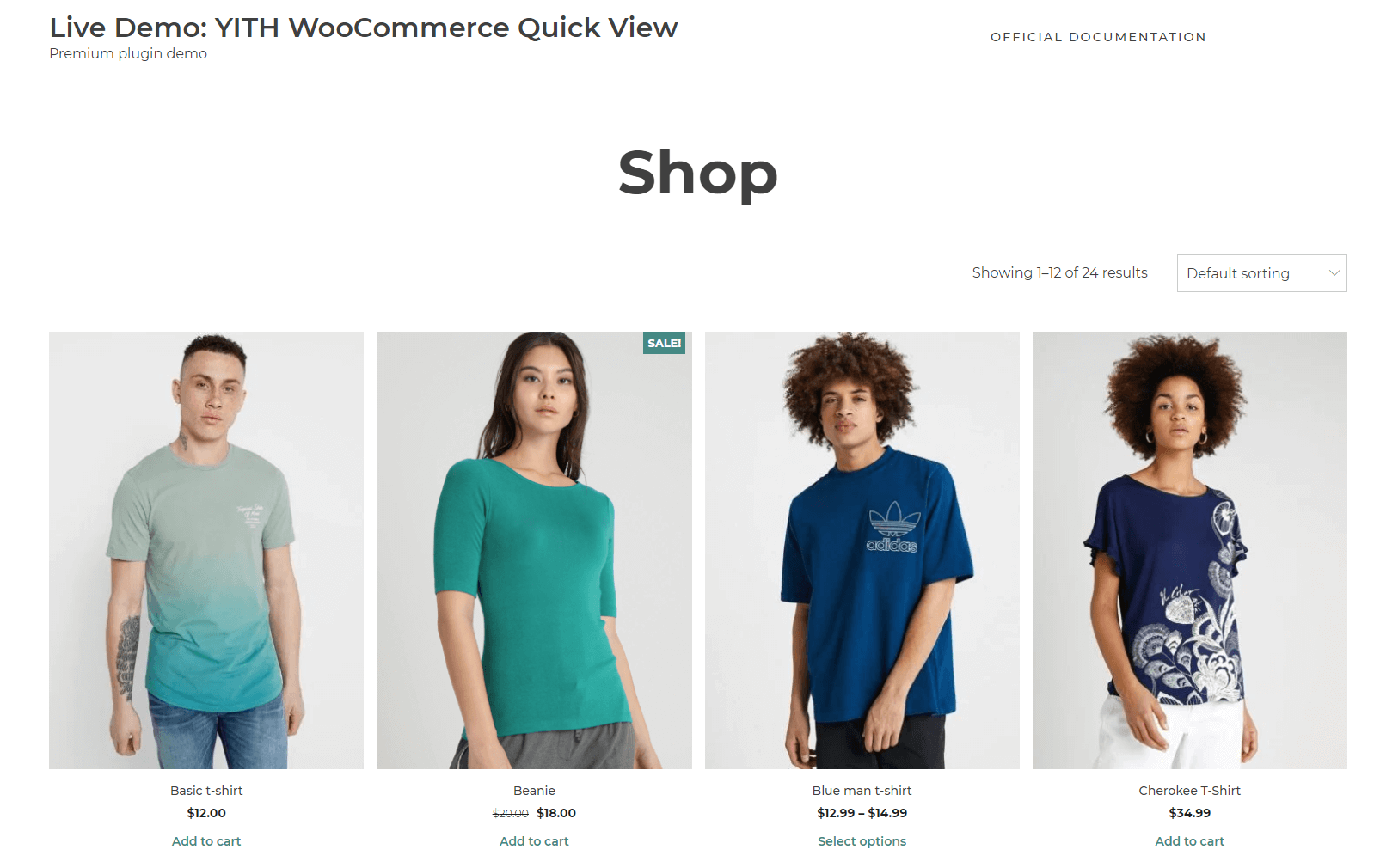 The YITH WooCommerce Quick View plugin is a famous plugin when it comes to flattering the quick view options of your online store. With this plugin, the customers entering your online shop will be able to read a small description along with the important features of your products. The premium version of the plugin can help you choosing the customization option as well.
This plugin is available in both free and premium versions. The premium version of the plugin has features that has more functionalities and are available in $70 for a single site and can go up to $279 for the use of 20 sites.
Features
Three Layout Options
Customizable button text
Supports other plugins
Supports all WooCommerce product types
Control Size of product images
Supports other plugins
Enables quick view on mobiles
Enable/disable lightbox
Choose the product to be displayed
---

The ProductX Quick View feature allows users to take a quick look at the features of a product. They can explore the previous products as well as the next products and get an idea about other products as well. Moreover, you can use the settings of the quick view to enable or disable different elements.
Features
An easy-to-use feature with a customizable global setting
Ability to disable quick view on mobile
Show the add to cart button on quick view
Enable or disable elements on quick view with a click
Enable quick view on shop pages
Cart page redirection option available
WooCommerce Quick View

WooCommerce Quick View helps your customers to have a quick view of the products without opening the actual product page. It is a free plugin that helps you to enable 'Quick View' on mobile devices too. Also, the plugin makes it easier for your customers to navigate from one product to another.
Features
Easy to Use
Easy Customization
Option to disable quick view on mobile device
Add a button in product loop
Set a label for Quick View button
Developer friendly
Add to cart, price and quantity button shown on the popup
---
Quick View for WooCommerce

Quick View for WooCommerce is a popular free WooCommerce Quickview plugin which allows the customers to quickly view the product information in a popup before they enter the product page. As the customers use this plugin, it gets more comfortable for them to add the products to the cart using the popup. With this plugin, your customers will have a better look on the products as they will see a small description box with the essential features of the product, which makes it easier for them to proceed to the purchase step smoothly.
Features
SEO friendly
Easy to use
Lightweight and powerful
Popup effect
Add to cart button background, custom padding and hover color
Custom CSS field
Translation Ready
Supports all modern browsers
Quick View button before and after Add to Cart button
Set product star rating color
---
Quick View WooCommerce

Quick View WooCommerce is lightweight and a simple plugin that allows the users to get a quick look of the products. This plugin helps the users to view the products without opening the actual product page. Also, with the help of this plugin, the users can have easy navigation as it makes it easier to switch between the next and previous product buttons. It is one of the most popular WooCommerce quick view plugin available for free.
Features
Works for all types of products
Choose for your own position for the quick view button
Cool animations for Quick View
Option to enable and disable on mobile devices
Customizable lightbox for product images as well as a gallery
Next and previous product button for navigation
---
WPC Smart Quick View for WooCommerce

WPC Smart Quick View for WooCommerce allows you to set a Quick view popup, which helps your customers to get a quick summary of the product on the same page. It also helps in the site navigation experience of the users. WPC Smart Quick View helps to improve the ranking of the site as it minimizes the bounce rate. The high adaptability of the plugin makes it easier for the users in mobile devices too.
The price for WPC Smart Quick View for WooCommerce starts from $29 for a single site and can up to $99 for unlimited sites. The premium feature of the plugin has a lifetime update and support, along with customization flexibility.
Features
Adaptable screen resolutions
Diversifying button choice for position
Translatable and editable button text
Improves SEO
WPML integration for building multilingual sites
Navigation buttons
Customization option for Quick View button
Compatible with all kinds of WordPress themes
Customizable Quick View Content
Product Summary fields
Lifetime update and support
---
XT WooCommerce Quick View

XT WooComerce Quick View is a popular WordPress plugin that allows the user to access the main product information quickly with the help of smooth animation. The main features of the plugin are; fast modal loading, smooth animations, product variations support, and supports bundles as well as composite products.
Features
Smooth Animations
Mobile Support
Support bundles & composite products
Fast ajax add to cart
Fast modal loading
Unbostructive Quick View
Custom Icons/Colors/Backgrounds
Product Image Slider
Google Fonts
Quick Product Browser Navigation
Product Variations Support
Custom Dimensions
---
WooCommerce Quick View Lite

The WooCommerce Quick View Lite plugin allows your customer to make a fast process while they purchase any product from your site. Also, they can browse many products in less amount of time. It allows the users to have a brief overview of the products in a pop up before they enter the product page. With it, the customers can save their time and have a great browsing experience.
For a single site, you can get the plugin in $39. You can get the plugin for $69 for upto five sites. And, it costs $129 to use the plugin for 25 sites.
Features
Customizable Quick View Texts
Customizable Quick View color and background
Close Popup button hover
Navigation arrows
Quick View Button Label of your choice
Add product to cart using Ajax
Displays thumbnails in slider or classic mode
Styling Options available
---
Products Quick View for WooCommerce

Products Quick View for WooCommerce gives the customer provides you a true supermarket shopping experience. With this plugin, you can view the products on the shelves and pick the ones that you are interested in. This plugin gives your customers real shopping experience as it first allows you to pick something of your interest from the shelf, then views all the product information. After that, you can choose between adding the items to the shopping basket or putting them back to the shelf.
Features
Mobile device optimized
Fully responsive
Compatible with all themes
Fully customizable Quick view button
Fancy Pop-up tool
Tracks SEO
Add to Cart with the pop-up
Positional settings on Quick View button
a3rev Button Style transparency setting
a3rev Hyperlink text creator
---
Quick View WooCommerce Product

Quick View WooCommerce Product provides you a popup that helps you to add to cart and shows the category page in WooCommerce. It allows the WooCommerce loop to operate in open Popup without opening in the new page. This plugin saves the time of customers as they get all the product information through a product like the summary. Also, the plugin is mobile friendly and helps you
Features
Easy to use Product Quick View Popup WooCommerce
Hide/show on single product page
Hide/show on the product category page
Hide/show mobile
Related Product on Quick View
Hide/show on single product page
---
CSSIgniter Quick View for WooCommerce

With the CSSIgniter Quick View for WooCommerce helps you to improve the conversion rate of your eCommerce site. This plugin will help you to preview products and then add them to the cart with the help of a lightbox.
The plugin is available in a free version with basic features. However, you can also purchase the premium version of the plugin in $34, which contains one year support and can be used on unlimited websites. With the premium version of $48, you can get access to all WordPress themes too.
Features
Quick View buttons in different locations
Customizable Quick View button text
Custom CSS
Mobile-friendly
Toggle visibility of the Quick View button
Customizable Quick View button color/width/link
Toggle visibility of lightbox products
---
WPB Product Quick View Popup for WooCommerce

WPB Product Quick View Popup for WooCommerce is a popular WooCommerce quick view plugin that will allow you to show the details of your product to the customers to provide more conversions. This plugin will enable you to set the WooCommerce Quick View easily. As the plugin has a responsive design, mobile-friendly, and works with all WordPress themes.
The theme is available in free as well as premium versions. You can get the premium version of the theme in $29. The premium versions of the theme give you options for choosing popup contents and helps you to change your quick view button settings.
Features
Easy to use
Easy Customization
Powered by Magnific Popup
YITH WooCommerce Compare
Quick View button style settings
Supports any 3rd party grid plugin support
Ajax Quick View system
Option for choosing popup contents
Option for choosing quick view button position
Quick View LightBox button shortcode
Ajax Quick View System
Developer friendly
---
Conclusion
In conclusion, although almost all the WooCommerce quick view plugins do a pretty good job but you must try Addonify WooCommerce Quick View as it offers plenty of features and functionality compared to other quick view plugins.
If you run an e-commerce business then you should consider using a WooCommere Quick View plugin which will help you to gain better sales results improving your e-commerce store functionality & user experience.
Let me know in comment section below which plugin do you think is best suitable for you.