You have been probably wondering WordPress vs Ghost, which one is better? and why? In this article, I have everything you need to know about WordPress vs Ghost. Since WordPress came into existence in 2003, it has been dominating other website's tool builders. WordPress has great popularity in its Content Management System(CMS). But why Ghost is becoming a real challenger to WordPress in CMS? Let's startup by explaining WordPress and Ghost.
What is WordPress?
WordPress is an open-source platform where you can use its code and files for free. WordPress is a powerful tool for building websites. It is the most renowned content management system(CMS) that is based on my Sequel and Php. When WordPress was first released back in 2003, it was just a blogging platform but now it has evolved as a backbone and has fully customizable features for building any kind of website targeting individuals, businesses, and companies. It is free to download from WordPress.org.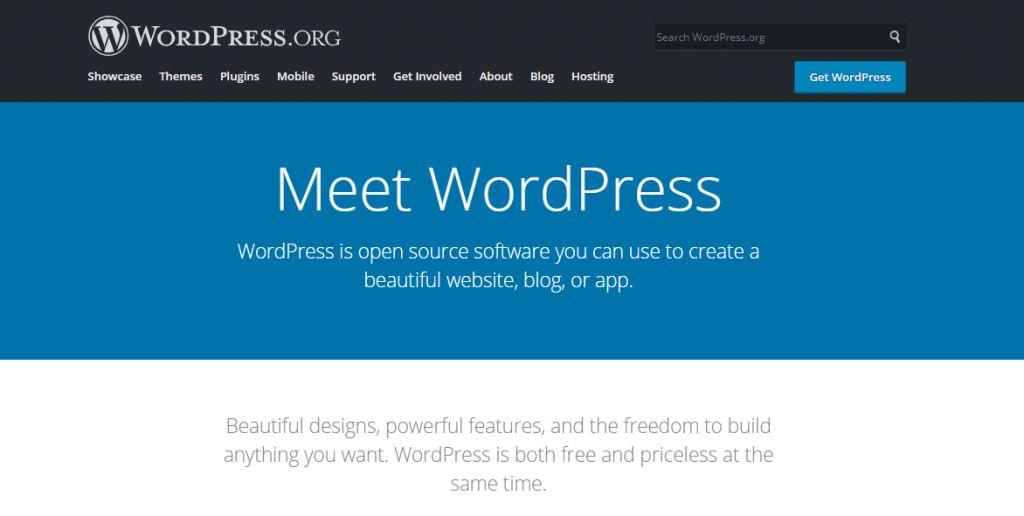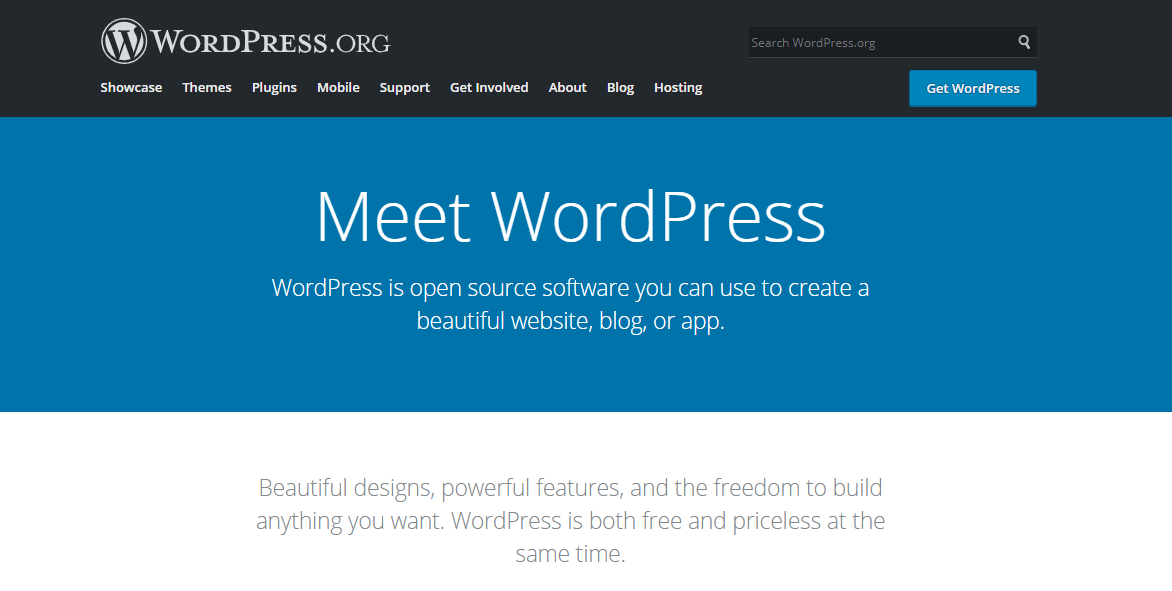 WordPress features include 55000+ free plugins, an unlimited number of free templates, Search Engine Optimization friendly, clean permalink structure, automatic filters, trackback, pingback and many more. In WordPress, we can build many different kinds of websites such as any blogging sites, business sites, portfolios, news & magazine sites, online shop/store sites, corporate sites, etc. It covers 34% of blogging sites on the internet.
| | | | | |
| --- | --- | --- | --- | --- |
| Visits per month | offers Plugin | GPL-Licensed | Average new WooCommerce Daily | Popup Daily |
| 400M | Over 55K | 3.5K | 281 | 661 |
Who Uses WordPress?
Everyone can use WordPress.
Individuals (Bloggers, writers, authors, businessman)
Government
Schools
Non-profitable organizations
Fortune 500+ companies
Business Organizations
---
What is Ghost?
Ghost is a free blogging platform for online publications and it is also an open-source blogging platform. Ghost is based on javascript and it is distributed under MIT license. Ghost was released in April 2013 with an aim to create one of the best open-source tools for independent writers and journalists all over the globe.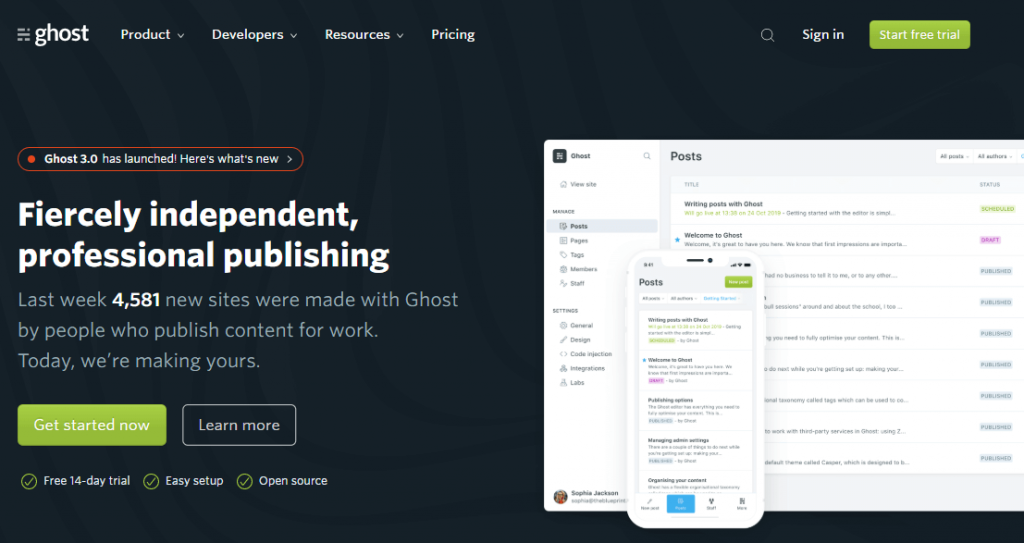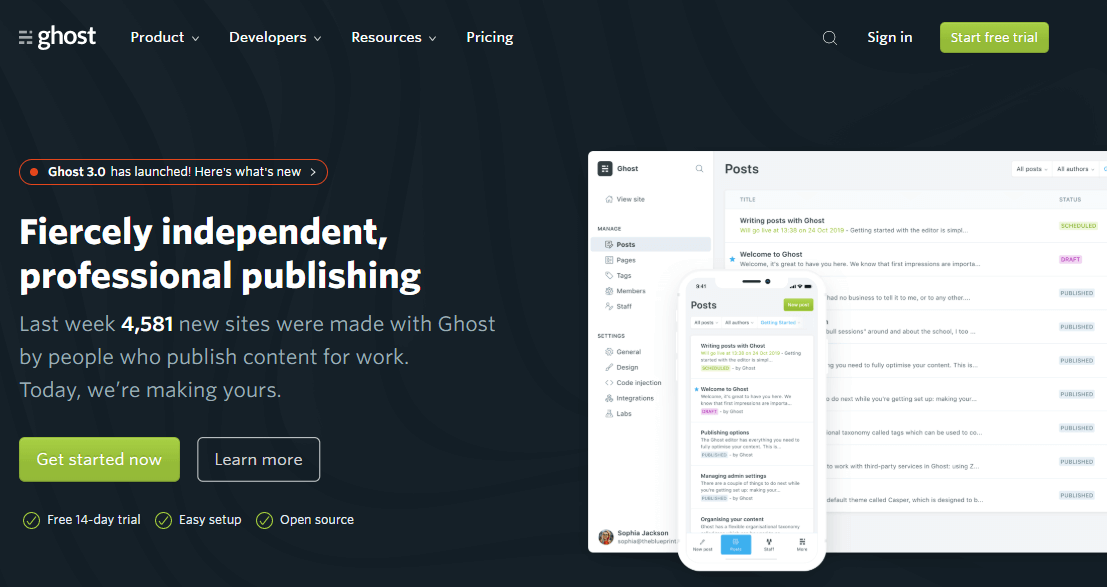 The Ghost is designed in such a way that simplifies the process of online publishing for online publications and bloggers. It focuses on creating a new online platform for professional publishers. Today Ghost powers many sites from new bloggers to professionals bloggers, individual writes and bloggers to large groups of writers and bloggers.
| | | | |
| --- | --- | --- | --- |
| Registered Users | Active Customers | Github Stars | Themes |
| 764352 | 4457 | 32067 | 719 |
Who Uses Ghost?
Specific individuals or groups related to online publications use Ghost.
Creative Writers
Bloggers
Authors
Editors
Large or small groups related to online publication
Journalist
---
WordPress Vs Ghost which one is Better?
WordPress Vs Ghost is compared in terms of blog editor, user & user management, cost, social sharing, plugins, themes, flexibility, fast speed, performance, SEO, easiness, community, and support.
In terms of Blog Editors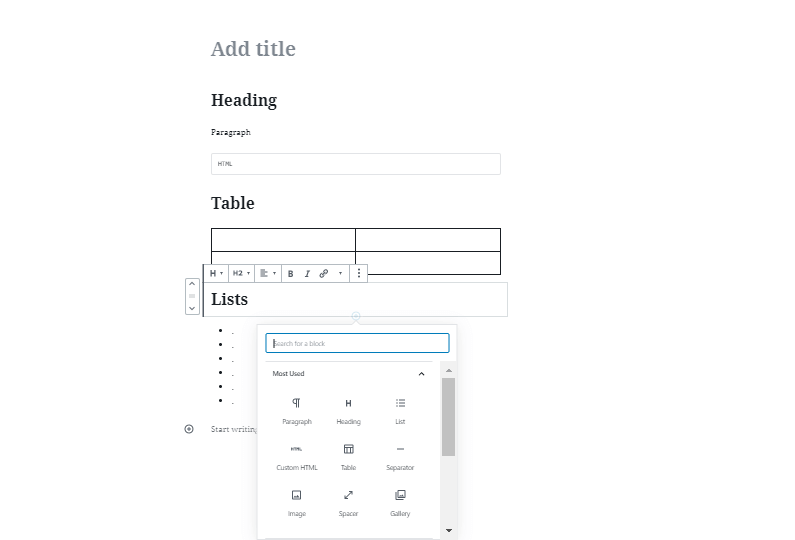 WordPress: At first WordPress has WYSIWYG editor but after WordPress 5.0 came out it has Gutenberg editor. Gutenberg WordPress editor is a web page builder that allows you to add blocks and embeds. Now every things such as paragraphs, tables, images, videos, headings, spacers, etc. are available in individually separated blocks.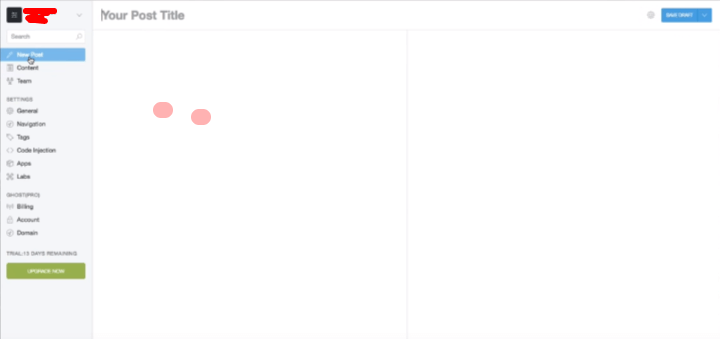 Ghost: Ghost uses Markdown editor. It is a lightweight markup language that style text on the websites. Markdown has regular plain text formatting syntax.
Gutenberg WordPress editor is easy to use than Markdown editor. Comparing Gutenberg WordPress editor and Markdown editor, Markdown will be the traditional editor and Gutenberg editor will be the lastest editor. That means Markdown provides limited options for our rich content. As for the Gutenberg WordPress editors, it provides a new standard for editing our contents.
---
In Terms of Users and User Management
WordPress: All around the world, there are 75+ million WordPress users. It is the most popular and most used web page builder in the world. For managing users it offers various popular plugins, templates, automatic content filters, etc.
Ghost: There are 2+ million Ghost users all around the world. It was very much popular at first due to its successful Kickstarter campaign. Currently, it manages users with its user profiles, built-in optimization features, etc.
WordPress is trendy and many people use it due to its user handling capacity, flexibility and overall its management. Ghost is in the developing phase and it needs more time to built-in its features for user management.
---
In terms of Cost
WordPress: WordPress.org is free of cost.
Below is the table of WordPress.com plans
| | | | |
| --- | --- | --- | --- |
| Free | Personal | Premium | Business |
| $0 for Life Time | $2.99 per month Billed Yearly | $8.25 per month Billed Yearly | $24.92 per month Billed Yearly |
Ghost: Below is the table of Ghost plans
| | | | |
| --- | --- | --- | --- |
| Personal | Advanced | Team | Business |
| 19$ per month Billed Yearly | 39$ per month Billed Yearly | 79$ per month Billed Yearly | 199$ per month Billed Yearly |
Both WordPress and Ghost are free but in free versions, there are limitations. First, you need to have your own web host and domain name. In reality, these costs are only beginning plan. If you want to know about the Best Free Web Hosting Providers.
How much you are willing to invest that depends upon you. WordPress is cheaper and provides high value in return. In WordPress, you can buy what you want for your site. You can purchase pro version after using free themes & plugins. But in Ghost, you have to buy a package.
---
In terms of Social Sharing Option

WordPress: In WordPress, you have to install plugins such as jetpack, Scriptless social sharing, etc for social sharing options. Social sharing also depends upon the website theme design and features.
Ghost: In Ghost, there is an in-built social sharing option and you can have social sharing options on each post.
Ghost has built-in social sharing options that means it has fix position and placement of the social sharing buttons. In WordPress, you can select theme design and have many more options to have a social sharing option in the way you like.
---
In terms of Plugins(Extensible), Themes & Flexibility
Plugins

WordPress: In WordPress, you can find 55000+ plugins. Those plugins have their own features to support your site. Plugins like Yoast, Contact Form 7, WooCommerce related and many more.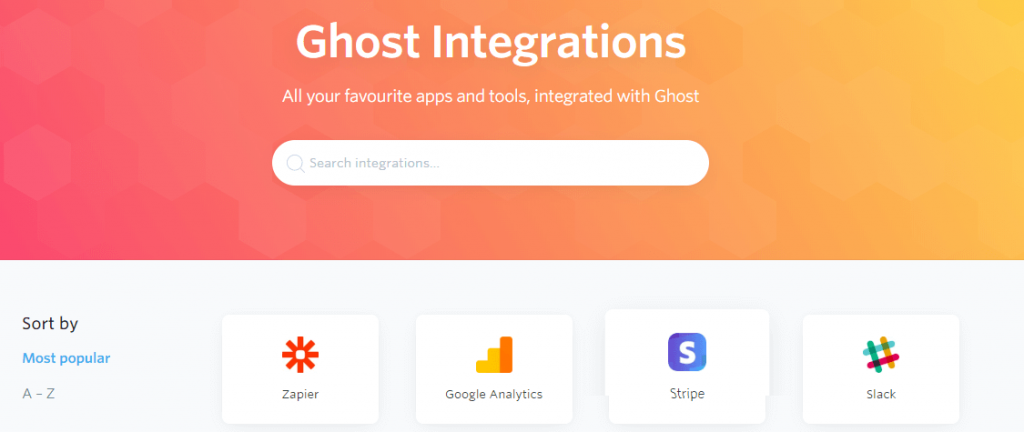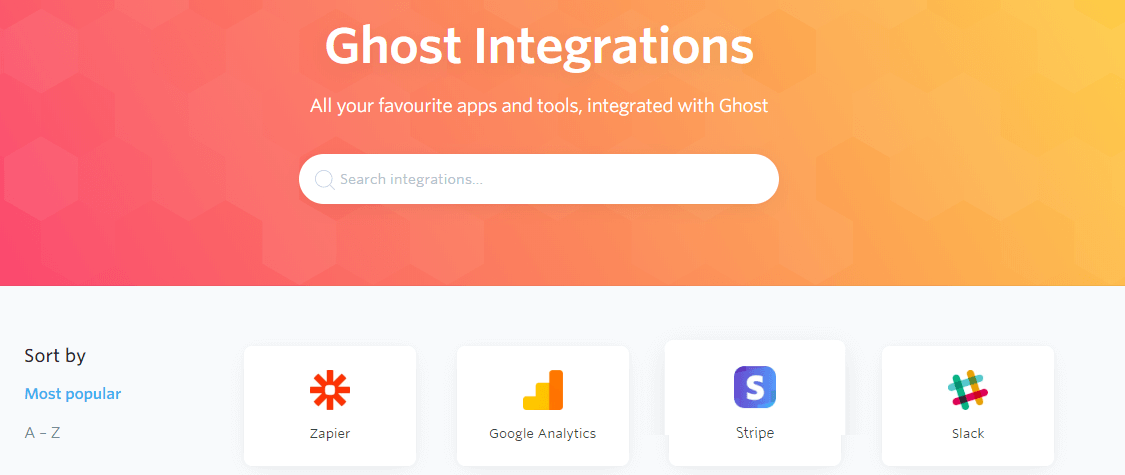 Ghost: Ghost has very few plugins and it is still in the developing phase. You have very few options. Normally it has many in-built features that cover the extended features of different kinds of WordPress plugins.
In plugins, WordPress is far ahead than Ghost. We can find a variety of plugins in WordPress and those plugins help to extend features of WordPress themes. You cannot find verities of plugins in Ghost and you do not have many options also.
---
Themes and Templates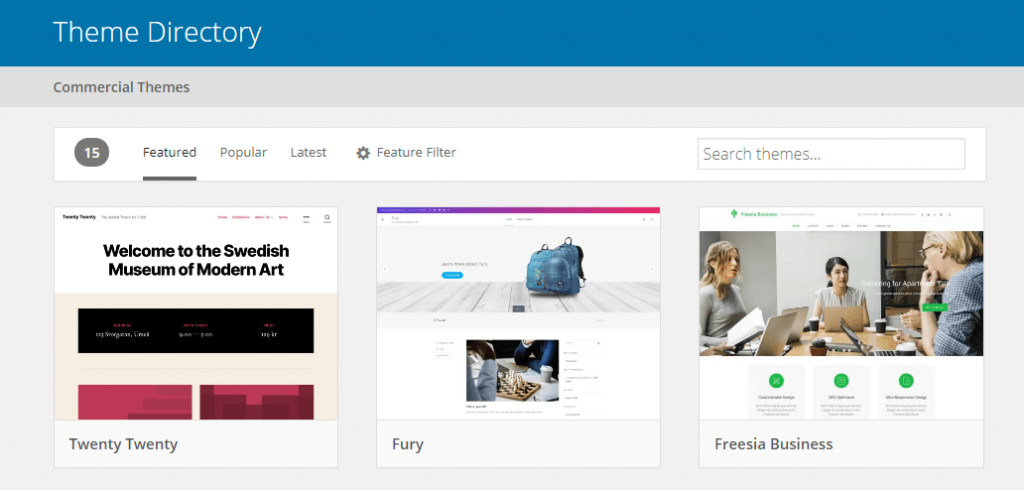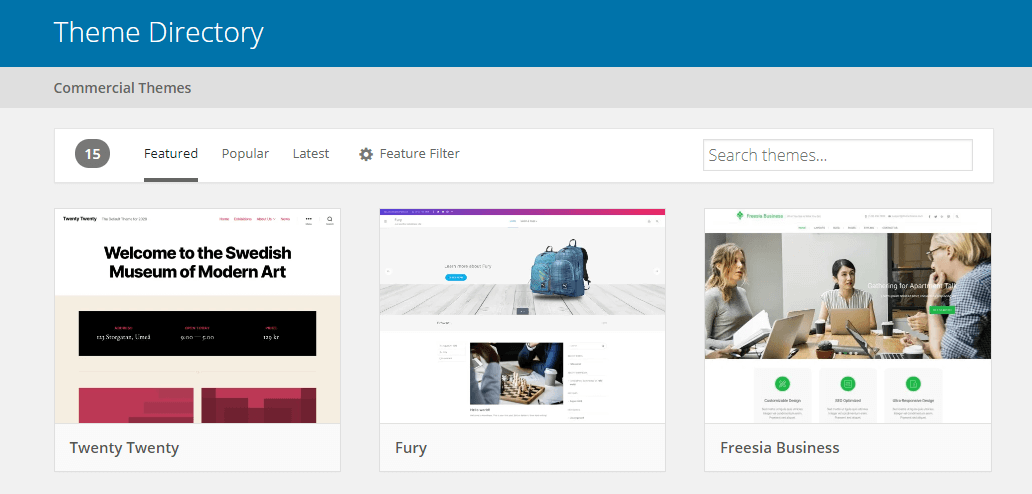 WordPress: In WordPress, you can find thousands and thousands of themes and templates with a lot more variations and designs. You have lots of options to choose a theme. Many themes are free of cost.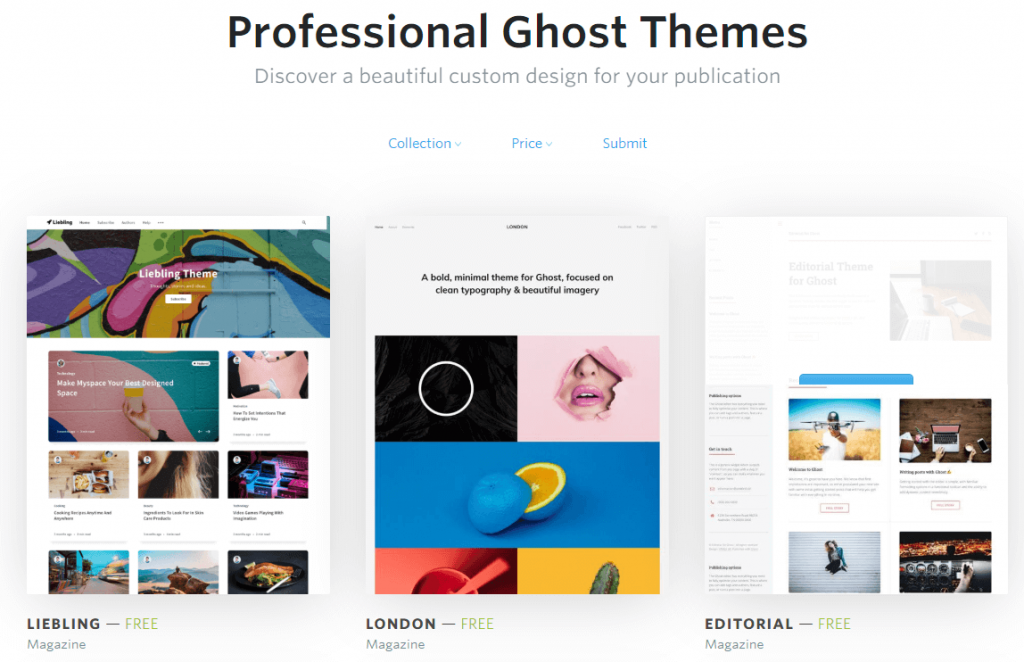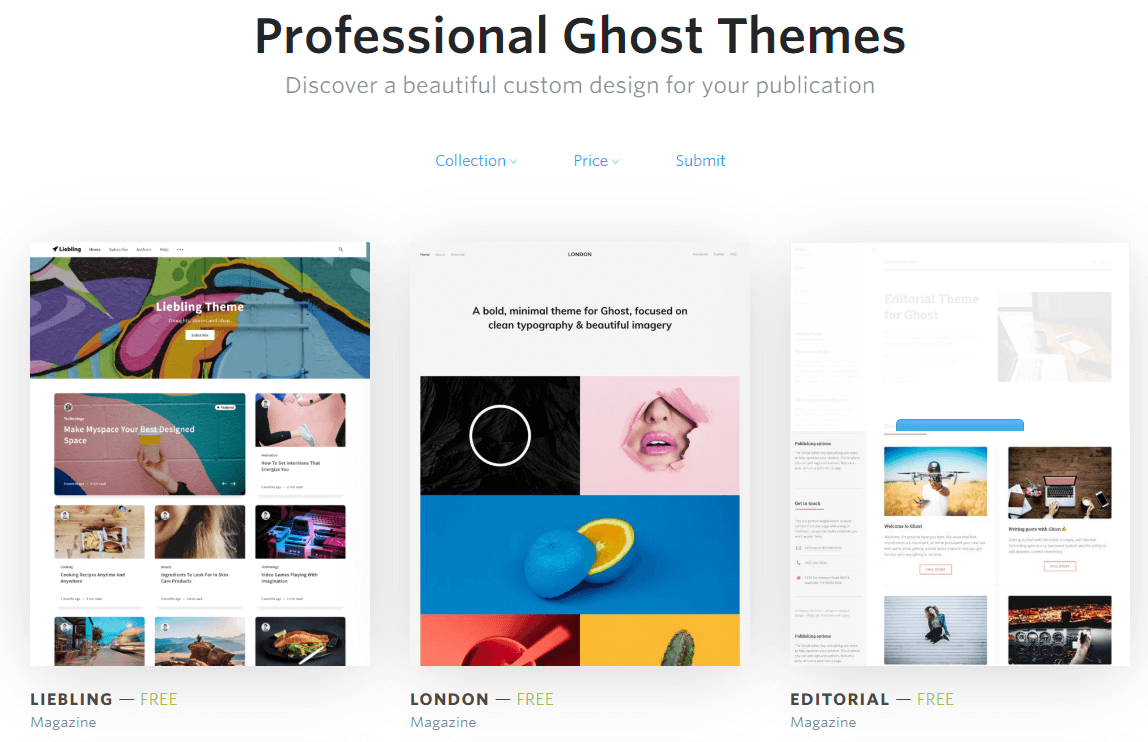 Ghost: Ghost has only 700+ themes and templates. These themes have unique designs and have lots of variations. But few themes are free.
In the number of themes and templates WordPress vs Ghost, WordPress is an ocean and Ghost is a small pound. Fishing in Ocean is the best choice to have a variety of fishes.
---
Flexibility
WordPress vs Ghost, WordPress is very flexible and dynamic than Ghost because WordPress has lots of themes, templates, and plugins than Ghost.
---
In Terms of Fast Speed, Performance and SEO
Fast Speed
WordPress: Speed depends upon your nature of websites. Heavy sites such as business, eCommerce, vlog, etc take time but lightweight sites are very fast. WordPress has optimized speed and we can find many types of plugins that boost the speed of WordPress.

Ghost: Ghost has an advantage on speed and it has fast speed than WordPress. Ghost is only for online publication websites that are lightweight.
In WordPress, speed can be compromised by using speed-related plugins. Although Ghost is faster than WordPress, it is only for blogging sites. WordPress blogging sites is also fast as Ghost sites.
---
Performance
WordPress: WordPress is used to create almost all kinds of websites such as blogging sites, business sites, news & magazine sites, eCommerce sites, portfolios and many more. Its performance level is high in all kinds of sites.
Ghost: Ghost is only used for building blogging sites or publication sites. Its performance level is high only in publication-related sites.
WordPress vs Ghost, WordPress performs better than Ghost even it has to cover the different nature of sites. If we evaluate the performance between these two, WordPress comes in the first place.
---
SEO(Search Engine Optimization)
WordPress: In WordPress, You have to install a plugin for SEO. You have a variety of options for SEO plugins. Many of the SEO plugins are free also.
Ghost: You do not have to worry about the SEO plugin. In Ghost, it has its own built-in SEO feature.
SEO helps to get a ranking position in Google search. Ranking doesn't only rely on SEO plugins but also on the content of your site. You can have features of SEO from both WordPress and Ghost. But many websites created under WordPress are SEO friendly than Ghost.
---
In terms of Easiness
WordPress: WordPress is easy to use, takes less than 5 minutes, and we can create websites easily by installing a theme. It has a Gutenberg editor also which is super easy to use. You can customize your site without the knowledge of code through live WordPress customizer.
Ghost: Ghost becomes easy to use when you are familiar with it. Its markdown editor is a little bit difficult to use.
WordPress is easy to install than Ghost and WordPress uses Gutenberg editor which is easy to use than markdown editor. Ghost has lots of in-built features compacted in one place but in WordPress, you can have plugin install in case you need to extend features. That also makes WordPress easy to use.
---
In Terms of Multilanguage
WordPress: You can find many WordPress themes in multilanguage. WordPress has its own community called polyglots that helps to translate the language of a theme. Currently, WordPress is available in about 57 languages.
Ghost: Ghost themes also comes in different forms of language. Ghost doesn't have a community that helps to translate the language of a theme. You have to buy plans to make a multilanguage theme.
It is easy to translate the language in WordPress and you will have many options within the community for translation. In Ghost, you have to purchase plans for translation and don't have options like in WordPress. Comparing WordPress, Ghost is available in less number but selective language.
---
In Terms of Community and Support
WordPress: WordPress has a large community and you can also find support forum. WordPress has 800+ employees and 100+ contributors. It has done many meets ups and have done many WordCamp. Due to its large community, its response is fast and reliable.
Ghost: Ghost has also support form that helps and supports newcomers. But they are not effective and reliable. It takes time to grow up and it is still in the developing phase.
WordPress has a large community and its community is 24 active and helps newcomers and others who need solutions for problems. Its support forms easy also easy to reach and you can have advice regarding particular issues. WordPress has created an effective community for its users. Ghost also has a community that is small compared to WordPress and is still in the evolving phase.
---
WordPress Vs Ghost, Who is the Winner?
WordPress and Ghost are both open sources and users can use files and code freely for their purpose. In WordPress, you can find almost everything to create websites and has a variety of plugins and themes. Ghost has everything completely intact all features in itself and still developing other features that are already in WordPress. WordPress has every kind of solution regarding building websites or web pages such as SEO, responsive, plugins, social sharing, flexibility, speed optimization.
Moreover, WordPress was first started with blogging websites with its content management system(CMS) but now it helps to create every kind of sites such as business, corporate, eCommerce, blogging, online publications and many more. WordPress completely dominates Ghost in almost all aspects. In WordPress vs Ghost. Ghost might develop much more than WordPress in the future and can become tough competitors. Evaluating all the matters WordPress is the winner in my perspective.
Thank you so much for reading my post WordPress vs Ghost.