A plugin is a software that contains a group of functions that can be added to a WordPress website. They are expanding functionality or add new features to your WordPress websites. In the WordPress community, there is a saying " there's a plugin for that". Plugin makes it easier for a user to add features to the websites without knowing the programming language. Among them, the Google AdSense plugin is one of the WordPress plugins.
Google Adsense is one of the best methods to monetize your websites. When it comes to WordPress, definitely you would look for a Plugin that helps you to insert the advertisement script provided by Google Adsense. Here, you should be looking for a Google Adsense WordPress Plugin. In other words, they are also termed as ad inserter WordPress plugin.
Here are some of Best Free Google AdSense WordPress Plugin
The main reason for writing this article is to help you find best suited Google AdSense plugin for your website. That generates monetary value for you. The following are the list of Google AdSense WordPress plugins:
If you don't know how to add Google AdSense Plugins then Click on HOW TO ADD GOOGLE ADSENSE TO WORDPRESS WEBSITE.
UNIVERSAL GOOGLE ADSENSE & ADS MANAGER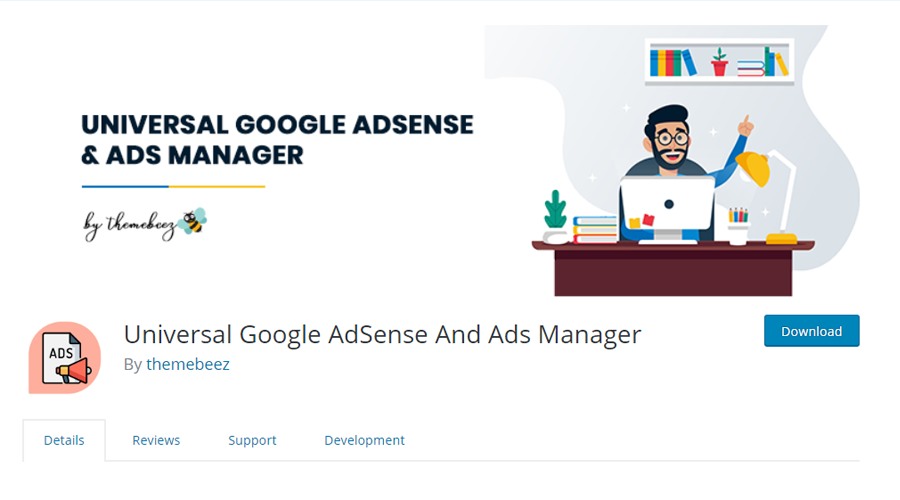 Universal Google Adsense And Ads Manager(UGAAM) is one of the best free Google AdSense WordPress plugin. UGAAM is flexible and compatible with all WordPress themes. It makes very simple to use script manager, custom advertisements and Google Adsense WordPress plugin. UGAAM injects Google Ads code and allows WordPress users to earn some extra money from the advertisement on their website effectively.
Custom image banner ads, other network-based on javascript(i.e. buy sell ads, affiliates ads, MGID, Bidvertise, etc.) and Google Ads ( including auto Google Ads ), are supported by UGAAM
Some Key Feature Of Universal Google AdSense and Ads Manager :
JavaScript can be inserted to header and footer for confirming verifications on services like Google Analytics tracking code, MailChimp, Google domine, Pinterest domine, etc.
Sticky Header and Footer advertisement
Script manager, custom advertisements, custom banner image advertisement, and Google Adsense can be inserted on to the homepage
Script manager, custom advertisements, custom banner image advertisement, and Google Adsense can be inserted on to the Category/Archive page
Script manager, custom advertisements, custom banner image advertisement, and Google Adsense can be inserted on to blog post single as well as on-page single.
Script manager, custom advertisements, custom banner image advertisement, and Google Adsense can be inserted on to widgets areas like footer, header, sidebar & other widgetized areas.
How to use Universal Google Adsense & Ads Manager (UGAAM) Plugin?
Here is a quick walk-through tutorial video below which will show you the way to use Universal Google Adsense & Ads Manager.
---
ADVANCED ADS – ADS MANAGER & ADSENSE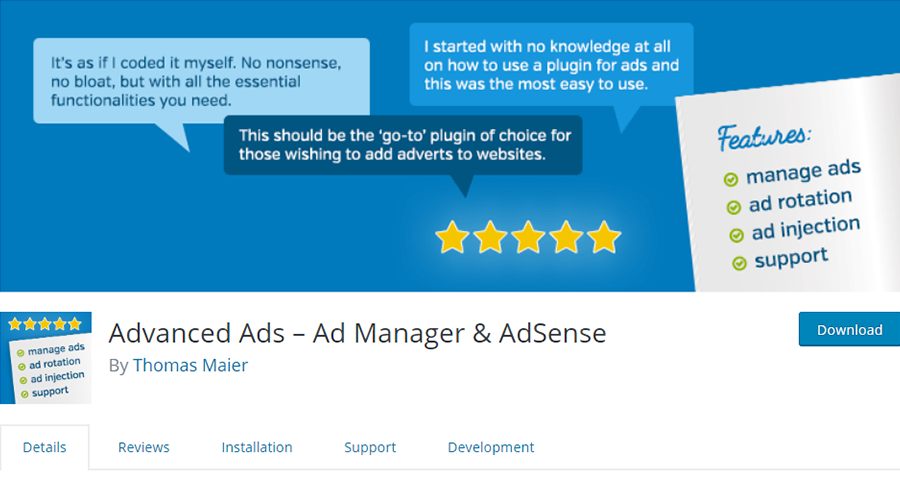 Advance Ads- Ad Manager is also the best free Google AdSense WordPress plugin. Advanced Ads is a simple and basic advertisement manager plugin made by a publisher for advertisement optimization. In view of the designer's experience conveying a huge number of promotions every month to build this advertise plugin is amazing. Yet the lightweight solution for insert the banner and overseeing in WordPress is to test and improve them also. It has 100,000+ active installs.
This plugin has been around for quite a long time and the developer is exceptionally dynamic in the help gatherings. It has a free version and a premium version. All configurations are supported in the plugin like ad injection, ad rotation, and Ad widgets areas.
Some Key Features Of Advanced Ads-Ad Manager & AdSense :
Unlimited Ad unit can be created, managed and showcased
Ads can be tested and optimized
Advanced Ad Placement
Display and Visitors Conditions
Ad Groups and Ads Types
Ad networks & Google Adsense
Responsive Websites
Stats and Tracking
---
AD INSERTER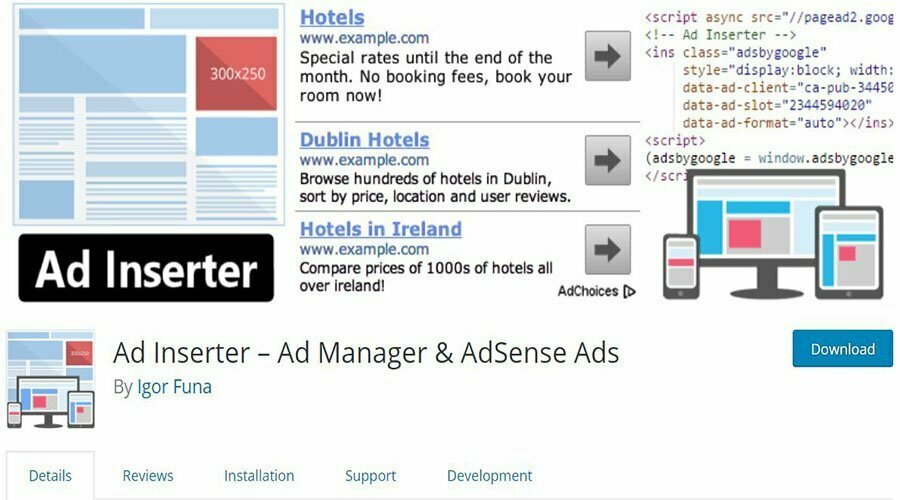 Ad Inserter is another free Management and Google AdSense WordPress plugin. It is a simple, flexible, lightweight and powerful plugin. Ad Inserter has advanced advertising features to insert advertisements at the optimal level.
Ad Inserter supports a wide range of advertisements including Google Ad Manager (DFP – DoubleClick for distributers), Google AdSense, rotating banner, Media.net, and Amazon Native Shopping Ads. It has many advanced choices to add ads on header contents, CSS, analytics, Javascript, PHP, HTML, advert or tracking codes on the page.
Some Key Features Of Ad Inserter :
Visualization of inserted codes blocks and HTML tags
Clipboard support to easily copy settings or code blocks
Supports for header, footer, Google Analytics Code and other web analytics code
Banner and placeholder code generator.
Client-side device detection
Sticky widgets and clearance options
Custom block alignments and styles
Timed rotation, rotation groups, and manual insertion
---
EASY GOOGLE ADSENSE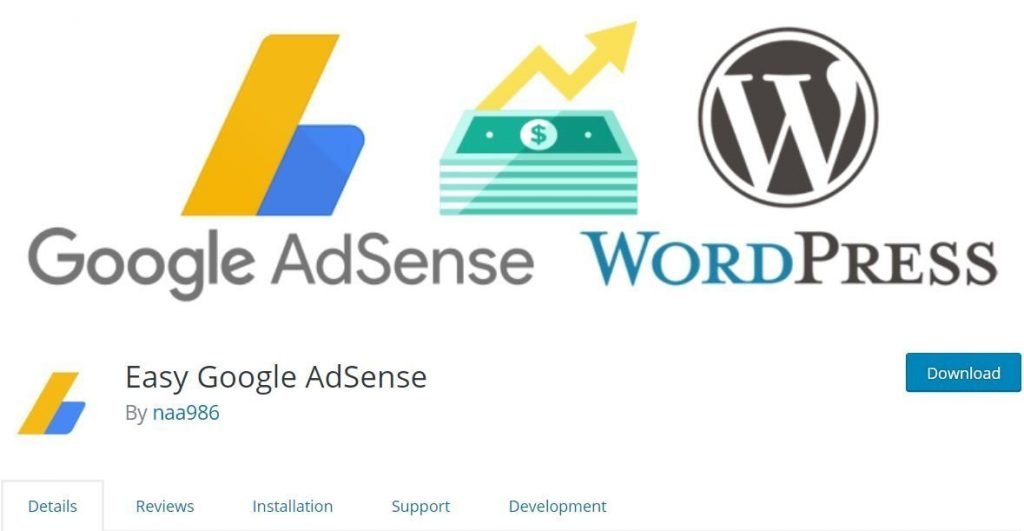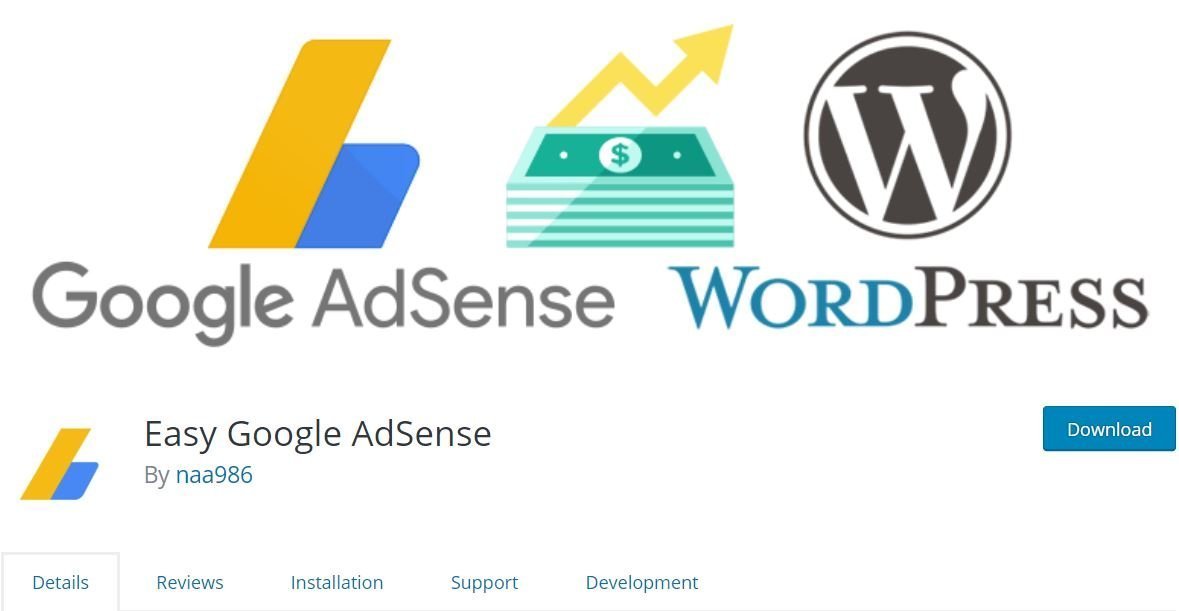 Easy Google AdSense is just another free Google AdSense WordPress plugin that makes Google AdSense monetization simpler for WordPress. Using it, there is no need to include a manual of AdSense ads/code to the various parts of your site. You can simply enter with your Google AdSense Publisher ID in the settings. Then Google will consequently begin to demonstrate advertisements at an ideal time and they are probably going to perform well for your site and give a decent experience to your users.
It depends on machine learning technology which puts automatically advertisements over your site. With Auto Ads, the advertisements might be demonstrated when there's a decent opportunity they will perform well.
Some Key Features Of Easy Google AdSense :
Focus on your creating great content and let Google handle ad placement
Optimize your ads automatically so you don't have to spend time doing it yourself
Automatically place Google AdSense ads at various places on your website
Let Google analyze your pages and find new places to place ads where you wouldn't normally
Maximize earnings by placing auto ads at optimal times
Less code, less cluttering, increased page speed which means an overall good experience for your users
Display ads based on your page layout, content, and existing Google ads.
---
WP SIMPLE ADSENSE INSERTION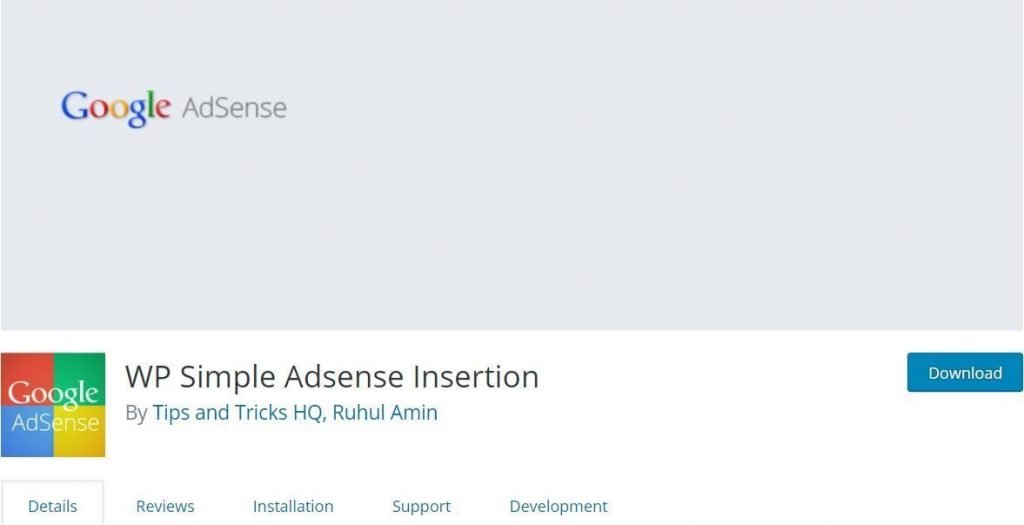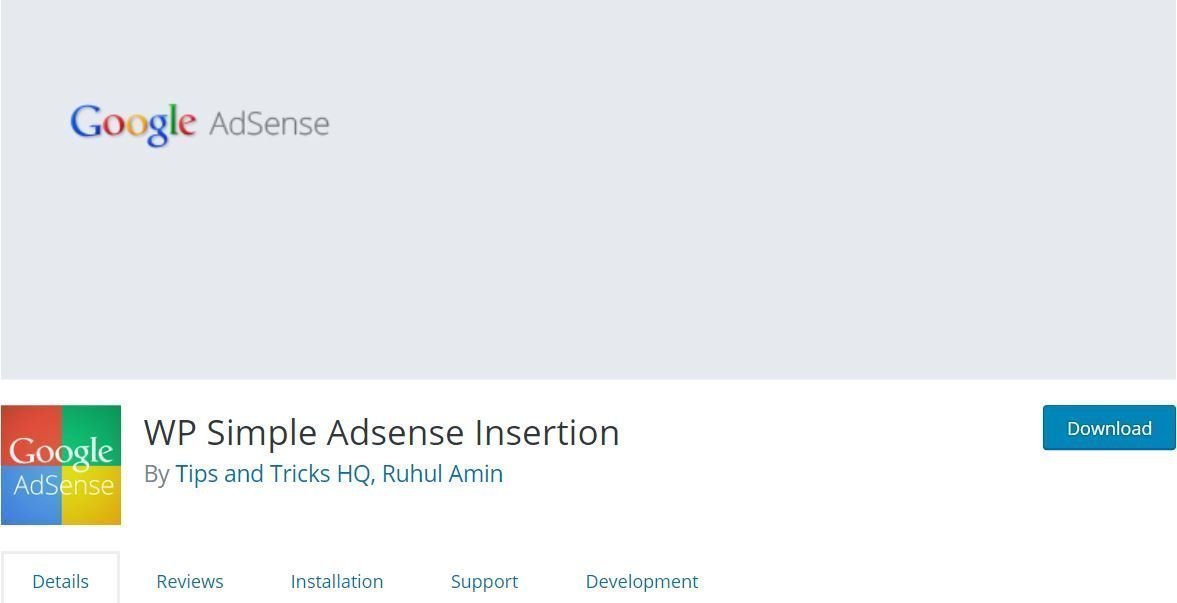 All bloggers have their own requirements and goals for the manner in which they need to utilize ads on their websites, and it makes sense — not everyone needs to over bloat their content with advertisements, sometimes an arranged and set advertisement can yield as large of a CTR as 10 ads combined, so everything comes down to the manner in which your blog and designed are planned, and how you can best compliment that with an ad square.
Simple AdSense insertions centers around shortcodes/functions that you can physically put inside your WordPress content. Having a lot of settings can be very overpowering, and obviously that Google Ads Manager gives the customization apparatuses that you would require in any case.
Some Key Features Of WP Simple Adsense Insertion :
Simple Google Adsense Plugin Installation
Using In-Article Ads
Simple Google Adsense Plugin Usage
Compatibility
Adding Adsense At the End of Every Article
Donation Option
---
EASY ADSENSE ADS INSERTER & ADSENSE MANAGER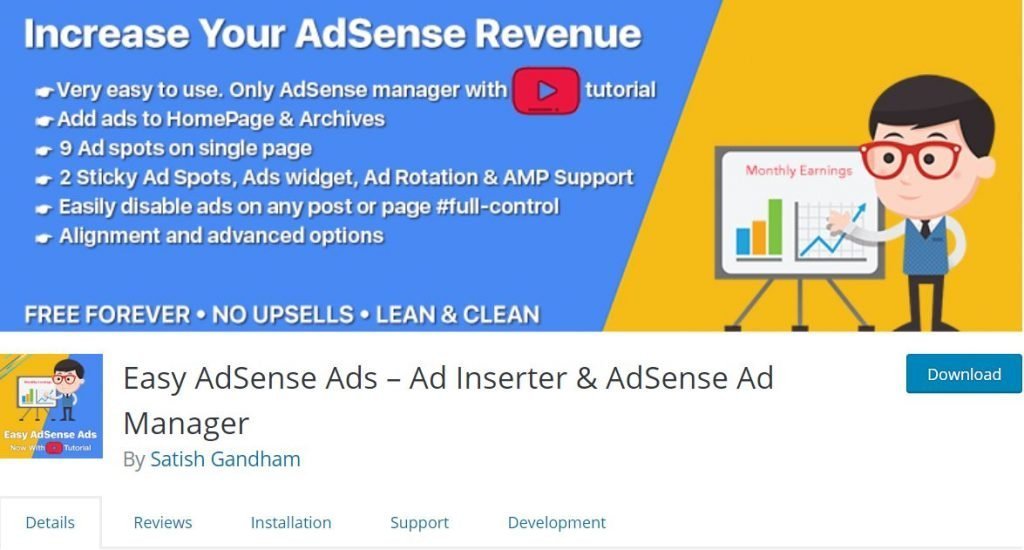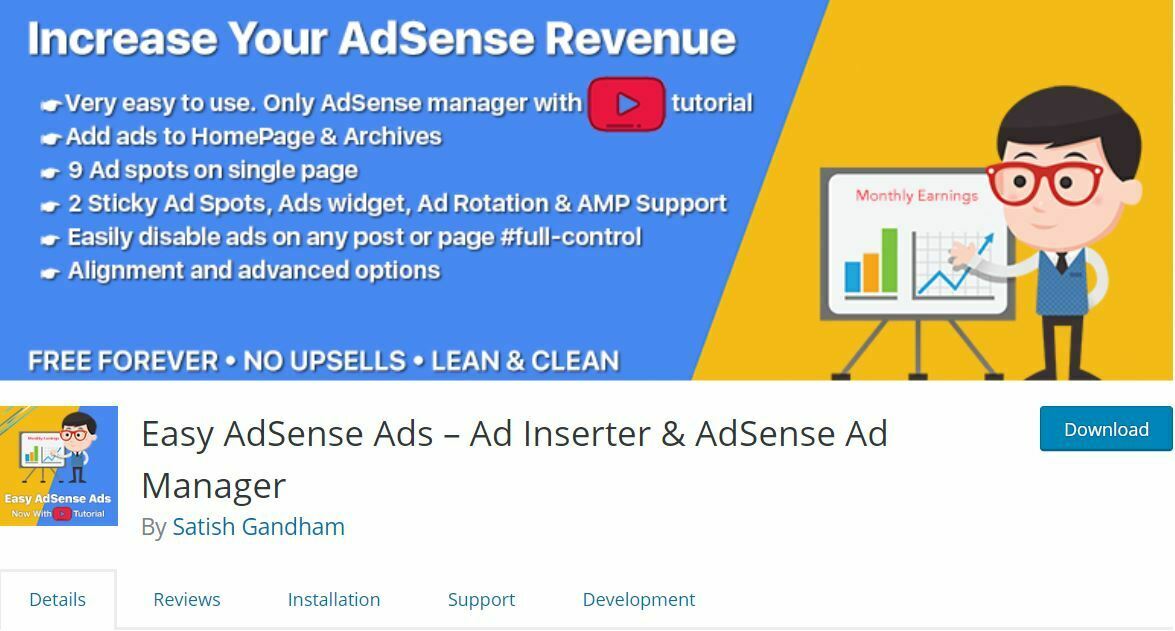 Easy AdSense Ads is an extremely straightforward and free Google AdSense WordPress plugin. You can without much of a stretch infuse promotions into your landing page, posts, pages, chronicles, and custom post types. You have 9 ad areas to browse.
EAA likewise accompanies features like ad widget, advertisement rotation. This is the best Google AdSense WordPress plugin to insert AdSense ads and different advertisements.
Some Key Features Of Ad Inserter & AdSense Ad Manager :
Separate Desktop/Tablet AdSense Ads Injection and Mobile AdSense Ads Injection
AdSense/Ads Injection on Homepage and Archives
Insert Ads on Single Page
Ads Widget
Ad Rotation
Option to Insert Header and Footer Scripts
Live Preview
Easily Disable AdSense/ Ads on a Per Page/ Post Basis
Easily Integrate EAA Ad Inserter With Your Theme
Custom Taxonomies And Terms Support
Easily Enable or Disable Ads on a Per Category Basis
Custom Taxonomies And Terms Support
---
WP QUADS – QUICK ADSENSE RELOADED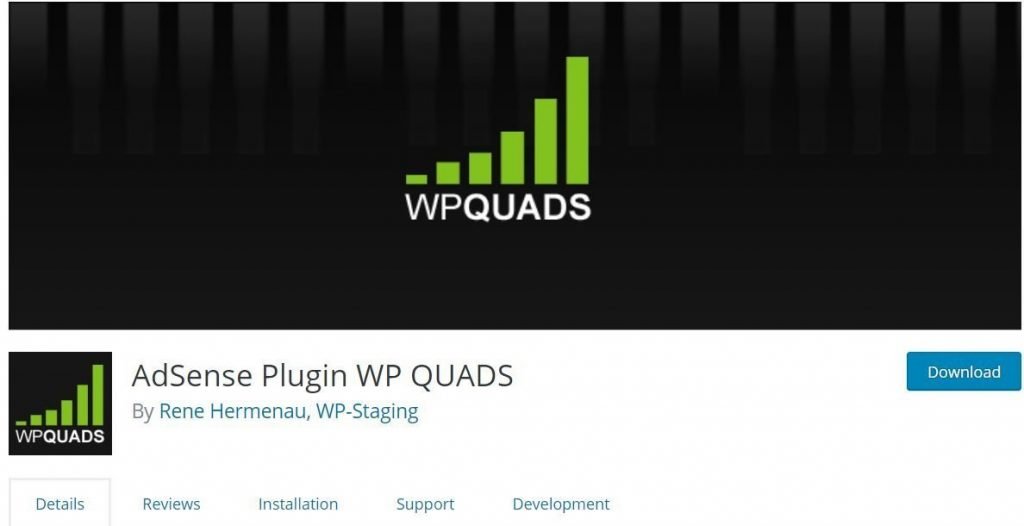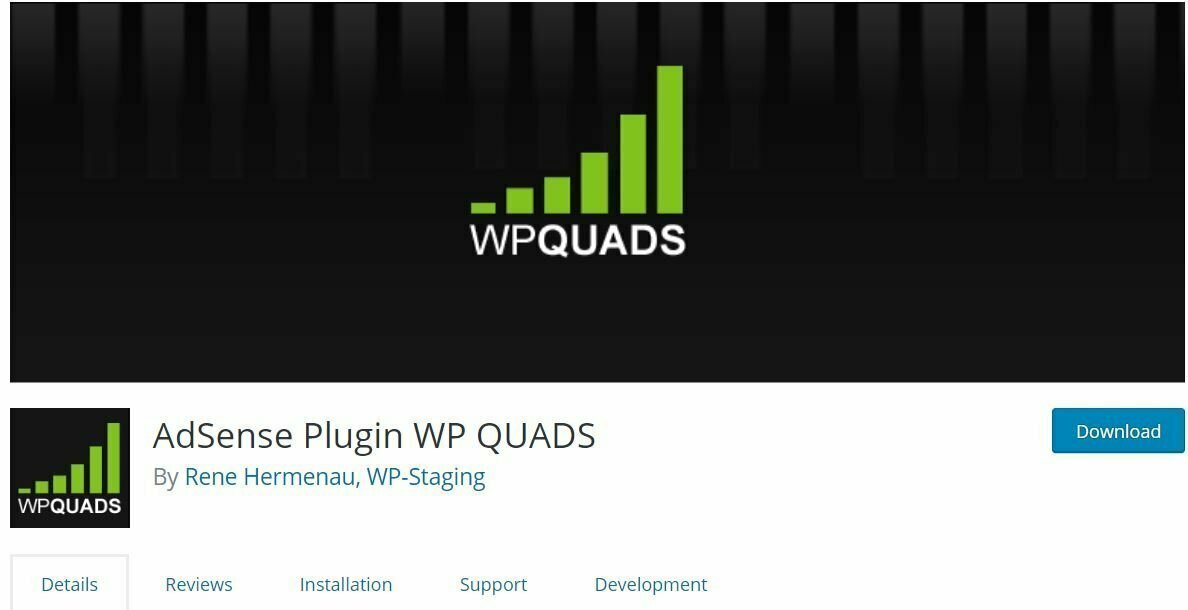 Quick Adsense is perhaps the best Google AdSense WordPress plugin and utilized more than 100,000 sites. It offers a fast and adaptable means to insert Google Adsense, or any other Ads code into a WordPress page, blog post, and widgets. Quick Adsense was made 3 years ago bt the first creator. To this day it hasn't gone under maintenance and development but still downloaded a hundred times each day.
WP QUADS – Quick AdSense Reloaded is the upgraded version of Quick AdSense. This plugin ensures future work with WordPress variants. Its performance is also boosted which will be able to increases the chance of solving problems with changing versions of WordPress.
Some Key Features Of WP QUADS – Quick AdSense Reloaded :
Unlimited Ads
Google Auto Ads
High Performance
Automatic Ad detection
Visibility Conditions
Responsive Ads
AMP Ads
---
QUICK ADSENSE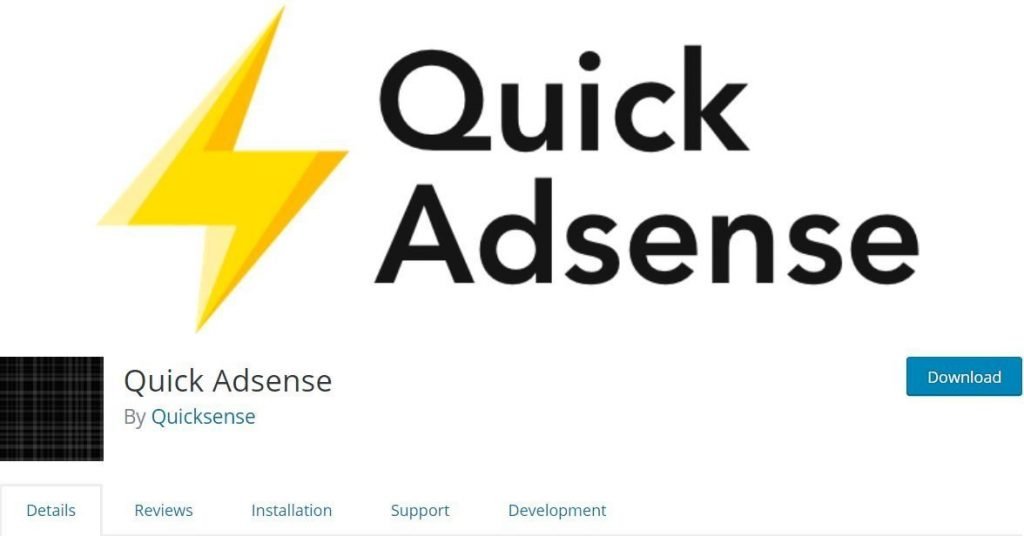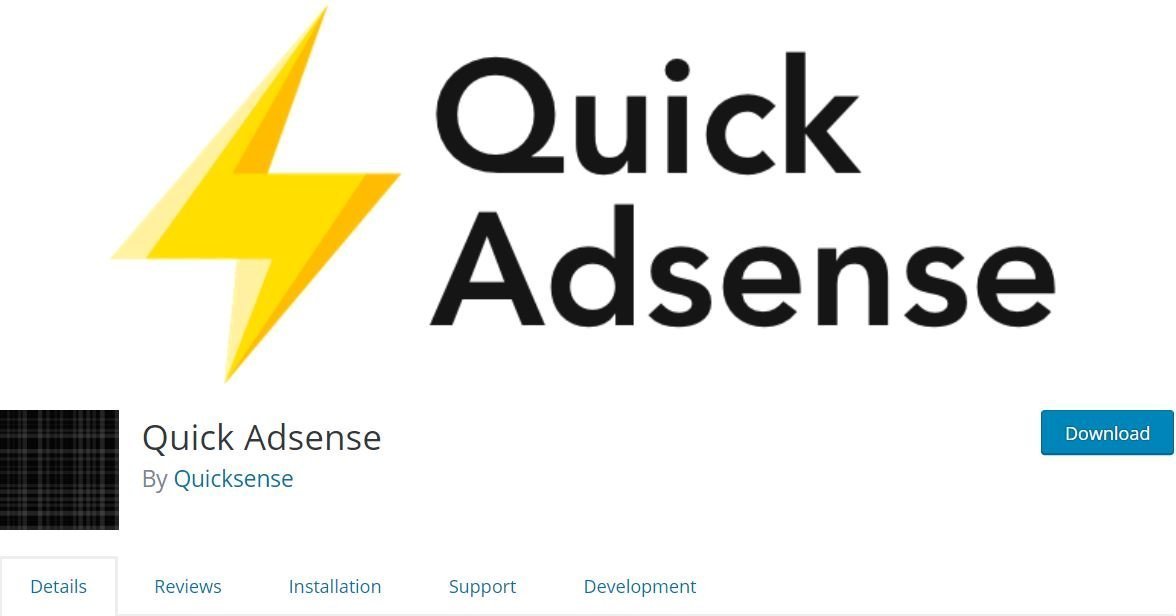 Quick Adsense is a free Google AdSense WordPress plugin. It presents a faster and flexible way to insert Google Adsense or any Ads code into a blog entry. Also, it can randomly put Ads anyplace inside a post. It comes with a straightforward setting page, and it doesn't overpower you with complicated customizable options.
In general, placing Adsense randomly inside a post is a decent way to explore different variety regarding an assortment of ad formats and arrangements besides advancing your Adsense.
Some Key Features Of Quick Adsense :
Quickly insert ads on our website using this WordPress Ads Plugin
Enable or disable ads on specific posts or pages just by simply adding a quick tag
Align ads anywhere in the post using this Best WordPress Ad Plugins
Insert Ads anywhere just by using shortcodes like <!–Ads1–>, <!–Ads2–> … , <!–RndAds–> to a post to accomplish this.
You can display up to a maximum of 10 ads per page. e.g 3 Adsense ads unit and rest of other advertisement banners or text ads.
---
ADSENSE IN-POST ADS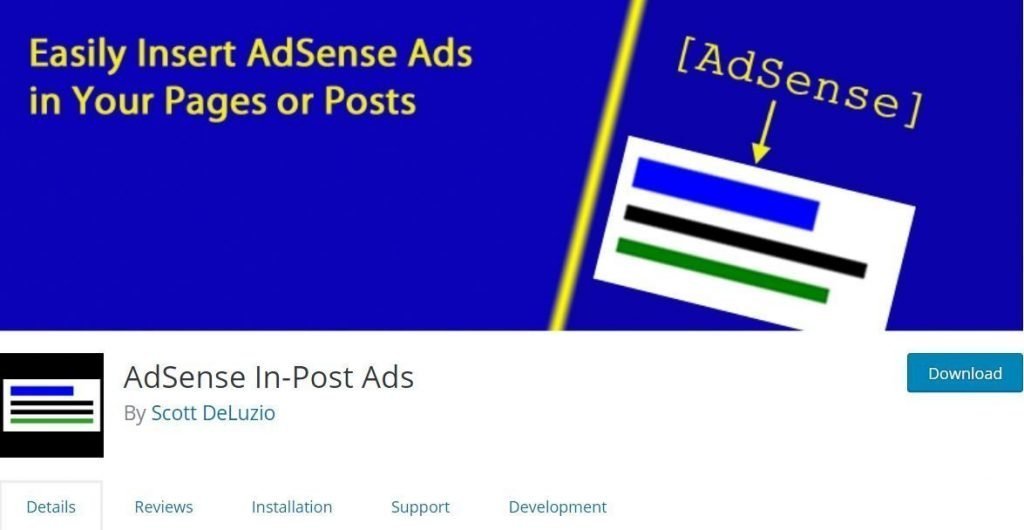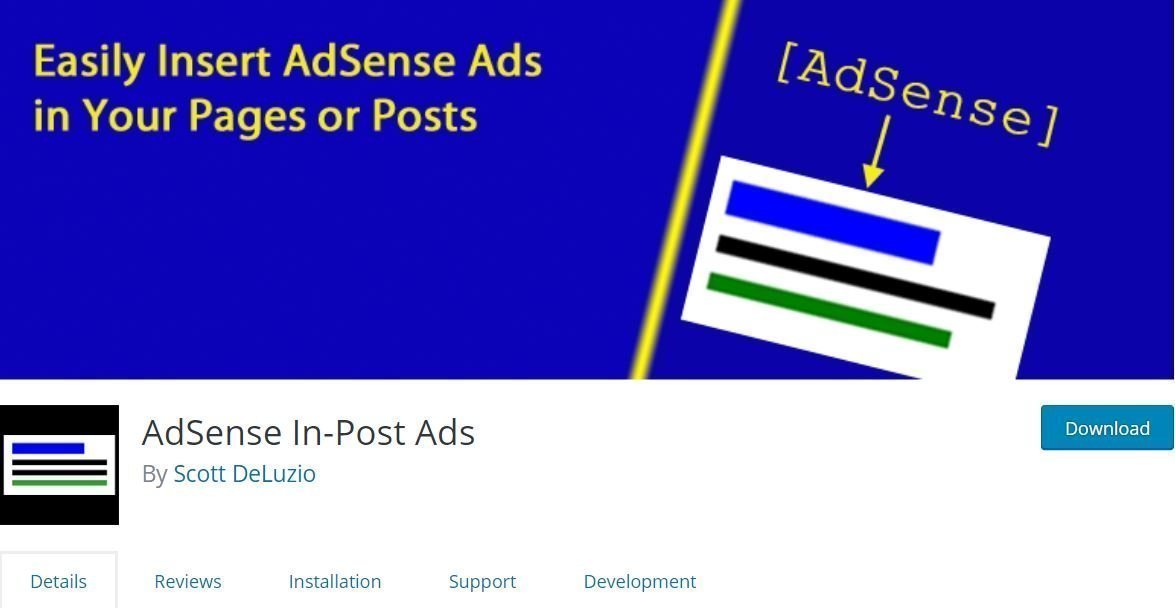 AdSense In-Post Ads is the best free Google AdSense WordPress plugin. It allows you to save your time spend on the Adsense and AdSense ad codes. Because it adds them as a shortcode in your pages or posts. Even you already have a plugin to show your ads in a widgetized area of your page.
AdSense In-Post Ads generates shortcodes, which can be used inside the body of any post or page to show an AdSense ad. Your site visitors are highly likely to click on the ads with the use of this plugin.
Some Key Features Of AdSense In-Post Ads :
Shortcode In Your Pages or Posts
Ads In a Widgetized Area
Inside The Body Of Any Page or Post To Show An AdSense Ad
AdSense Ad Codes
---
SIMPLE GOOGLE ADNSESE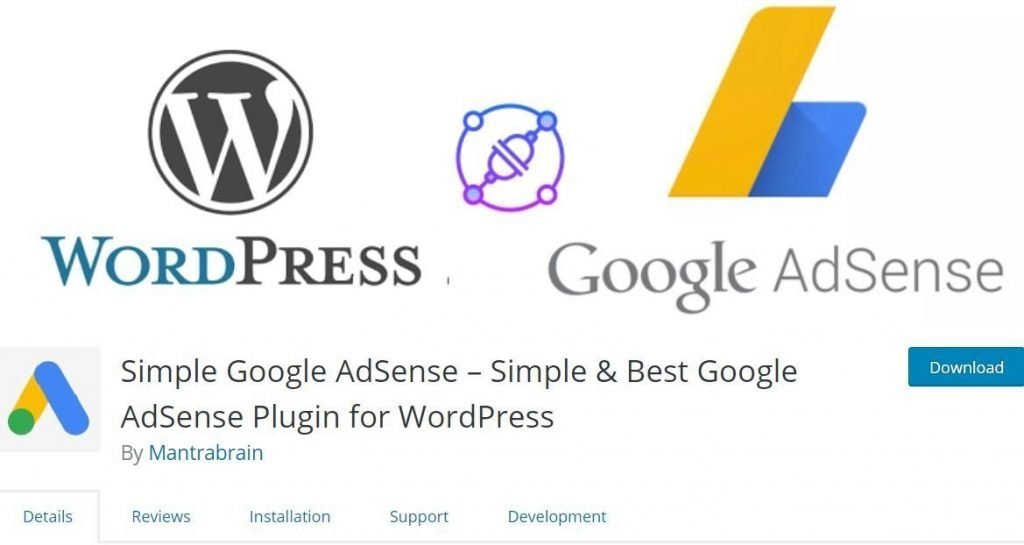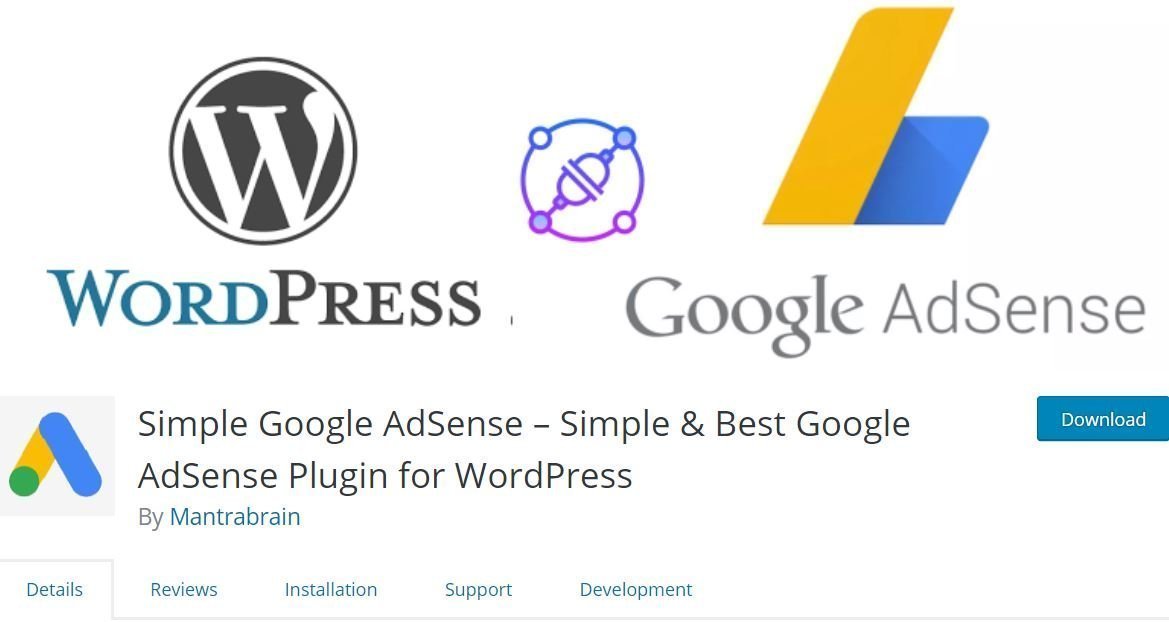 Simple Google Adsense is easy to use a WordPress plugin to insert Google Adsense to your pages, posts, and sidebar by utilizing a trigger content or calling the PHP work.
There are many numbers of plugin and services on the internet that can add Google Adsense to your WordPress site. However, this plugin gives a lot of customizable options and easily installed. It can be overpowering and compactible in all WordPress themes.
Some Key Features Of Simple Google AdSense :
Simple Google Adsense Plugin Installation
Change Log
Compatibility
Adding Adsense At the End of Every Article
Using In-Article Ads
Simple Google Adsense Plugin Usage
---
CONCLUSION
Hence I have listed the best free Google Adsense WordPress Plugin. Each plugin on the list is amazing which will help you to monetize your website in an elegant way. From the above list of Google AdSense WordPress Plugin, Universal Google AdSense And Ads Manager is my all-time best plugin. You can follow its documentation which is available and help you in dealing with the plugins.
If you have any queries regarding about above plugins, feel free to comment in the comment section below. I heartily welcome all of those comments and try to answer it as soon I can.
If you liked this article, Here are some few articles for you that you may also like: