Event is a planned public or social occasion where people gather physically or virtually and enjoy or discuss something important. Nowadays people usually create an event on Facebook and share. But the Facebook event is not fully enough to collect the information and provide information. Hence, to overcome this problem team of WordPress developer came with event management WordPress plugin named WP Event Manager.
If you are using a WordPress website and want to integrate event on it, you can use this plugin. In this blog post, I will discuss the features and methods of integration on your WordPress website.

For instance, if your company is going to organize a music festival and attendees compulsory need to get registered to attend the event. At that time, you can create an event on your own website where interested people can register and pay. This is a complete event management package. Thus, this is the popular event management WordPress plugin.
Besides that, you can use this plugin in your existing website where you can gather interested people for the event and can gather email and contact information as well. I was looking for this type of event management plugin for a long time. However, there were few and they are not so good to manage an event in a good way.
Why Event Management WordPress Plugin WP Event Manager?
There are a plethora of reasons for choosing WP Event Manager plugin. Here are some good reasons,
Perfect for any types of event
Easy to use and install
Totally free and affordable add-on
Search and Filter
Front end submission
Cross browser compatible
SEO Friendly
Responsive Layout


Besides that, WP Event Manager has custom widgets, translated over multiple languages, shortcodes available to display event in post and page, ajax based filtering and many more. We will discuss core features in details below.
How to Install WP Event Manager?
At first, lets discuss about how to install and activate event management WordPress plugin WP Event Manager. Installing this plugin is similar with installing other plugins as well. You just need to follow the below listed steps,
From the admin panel go to Plugins section
After that, go to Add New
Search the plugin name WP Event Manager
You will see the plugin over there and click on install it.
Next, you need to activate.
Finally, your plugin is installed and activated. After activating the plugin, you need to setup it. It is very easy to set up. You just need to make some clicks to setup it. This video will guide you about how to install and setup this plugin. Please check this awesome video.
Hope this video became helpful for you. Now, do you want to know what are the features that free version have and what are the available extensions? Let's proceed to know about it.
WP Event Manager Setting
WP Event Manager has easy to use settings. After installing and activating the plugin, you will have a new menu at the admin panel. With the help of that menu(Event Listings), you can add, edit, delete and customize the events.


General Settings
In this section, you will have four different types of settings including enable bootstrap front end and backend, delete data while uninstalling and google API key for the MAP.
Event Listings
From the event listing settings tab, you can manage to list per page, canceling events, enable categories for listings and enable event types. Furthermore, it has enabled ticket pricing, category filter, event type filter, etc.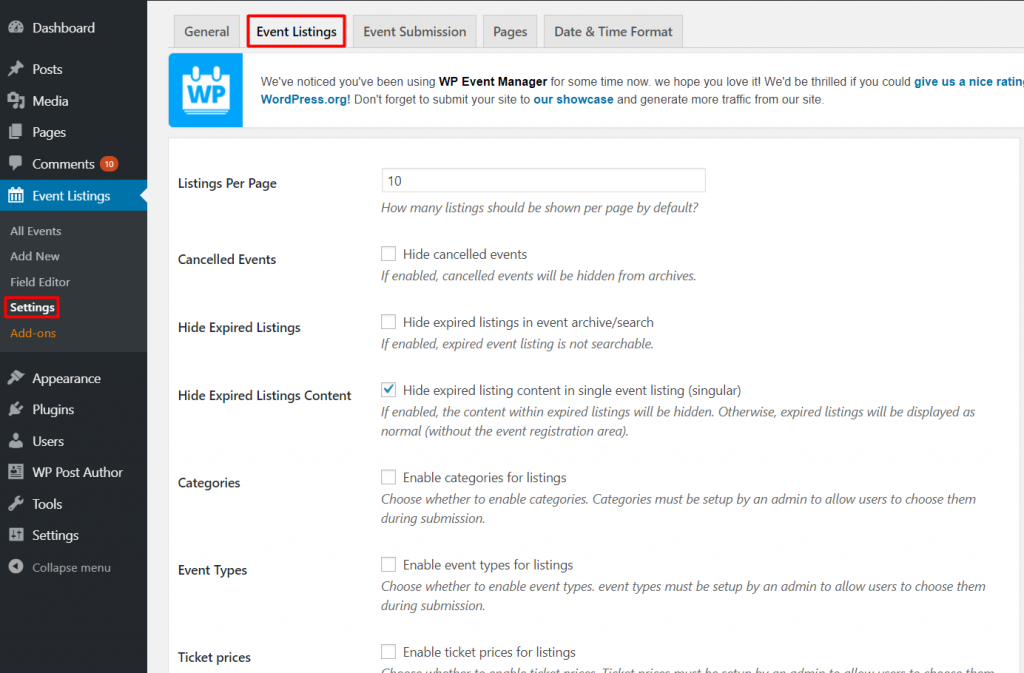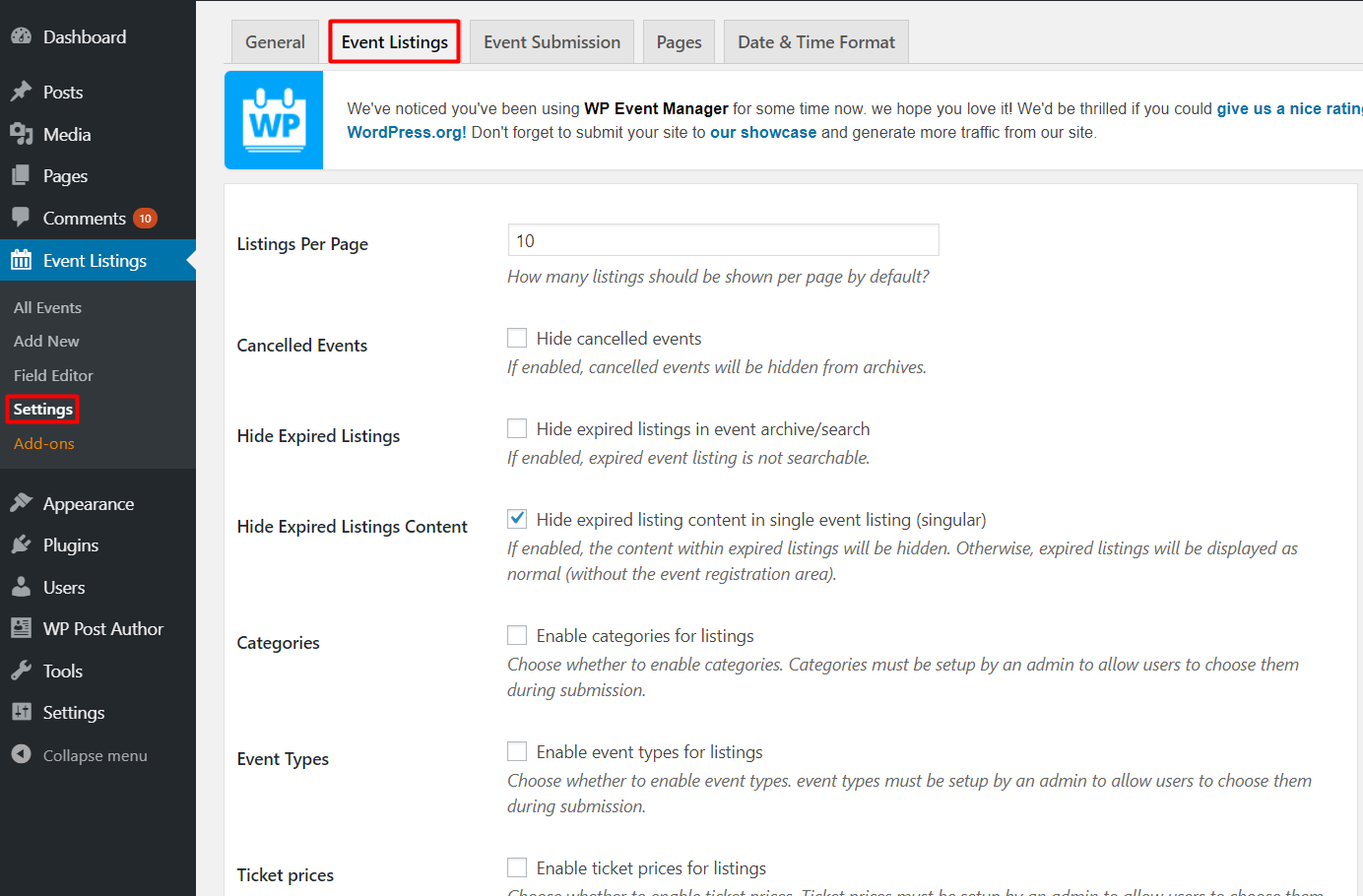 Event Submission
This feature allows your visitor to submit their events and it will be listed on your site. For example, if you are running an event portal site, at that time your users can submit the event details. More events you list, more traffic you will get on your site.
As I stated above, WP Event Manager has the option to submit the event from the front end. From these settings, you can manage every entity of the front end event submission. It includes login required or not for the event submission, allow to create users, automatically generate username based on an email address, default account role, registration model and many more. See the below screenshot for more information regarding this settings.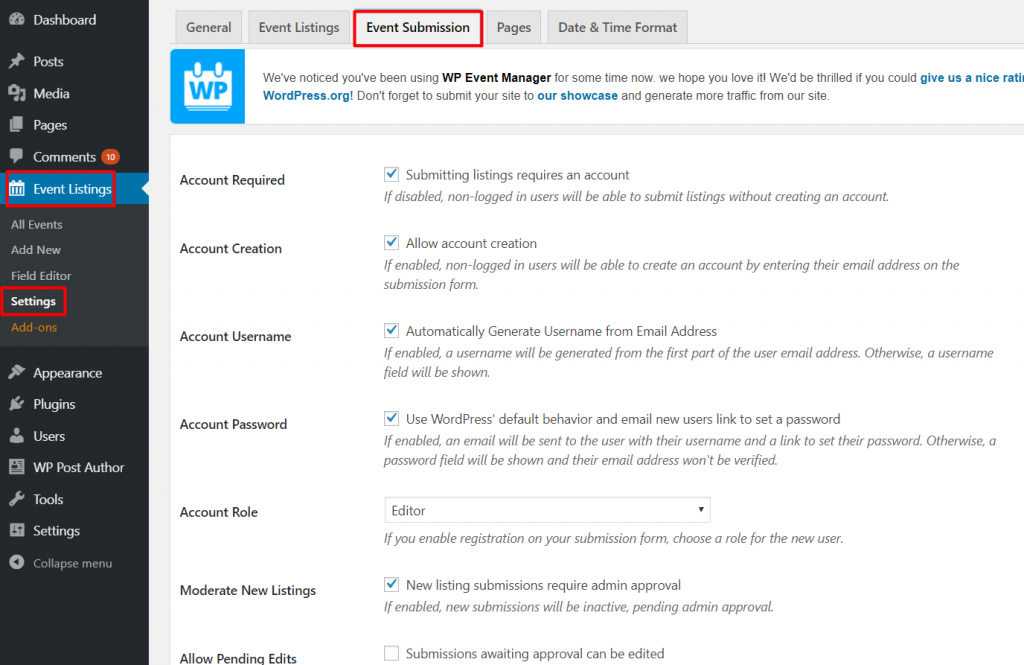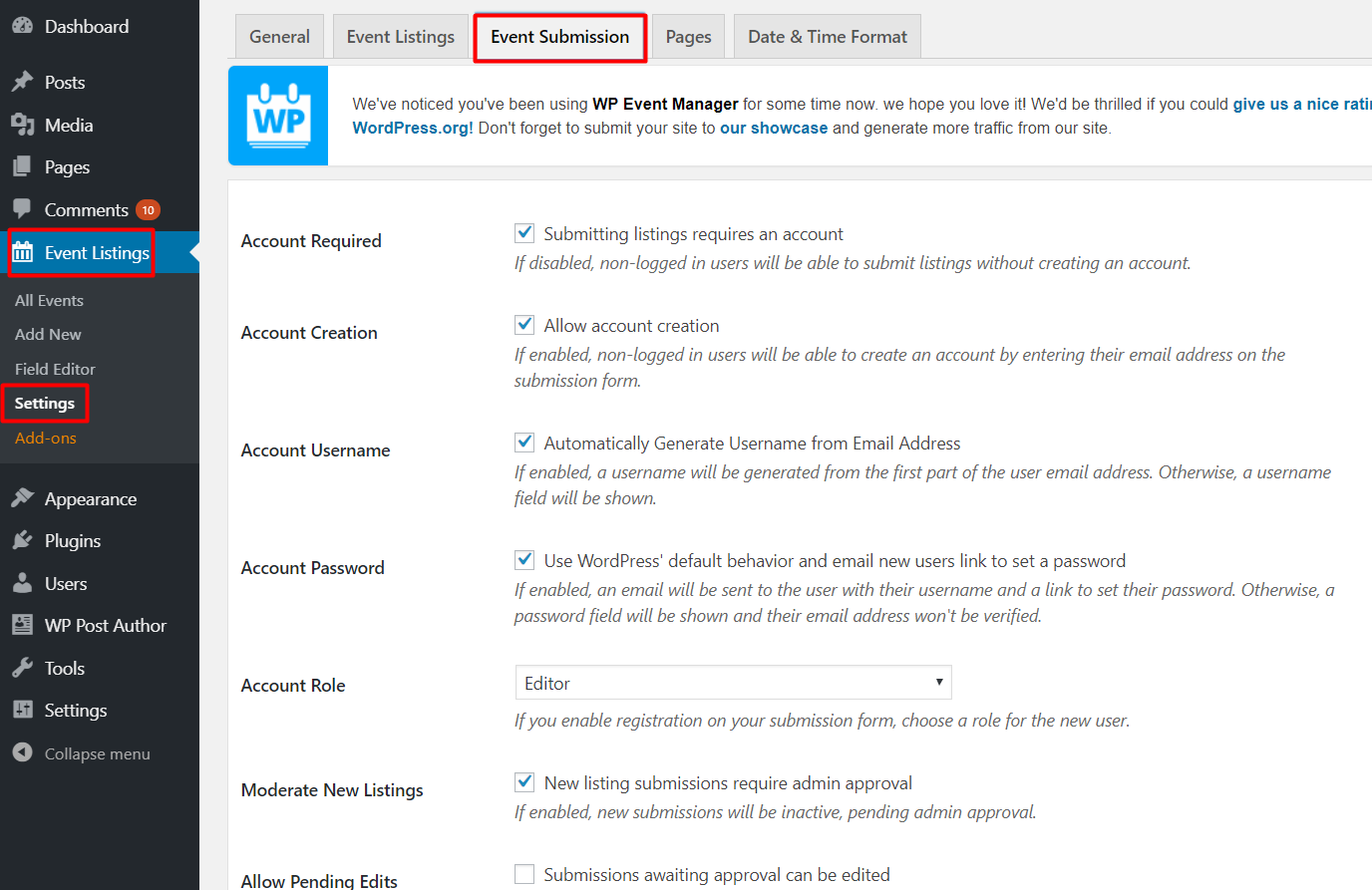 Likewise, WP Event Manager has some more settings. You will get more settings on the premium extensions as well. Thus, to make professional events, I recommend you to go with the necessary premium extensions. You can either purchase individuals or the complete bundle as well.
Features of Free WP Event Manager
As I said above, this plugin has ample of features that helps you to customize your event as you need. So you don't need to worry about its flexibility and features.
Event Widgets
After activating this plugin you will get custom widgets inside Appearance > Widgets. Use those event widgets in the respected sidebar of your theme to display event details. In the free version, you will have recent events and upcoming events.
Google Map
The event location is a mandatory thing while creating the event. Hence, you need the actual map location with direction while creating the event. Google map integration will be easy with this premium add-on. You can get it at $39. It is worth of money.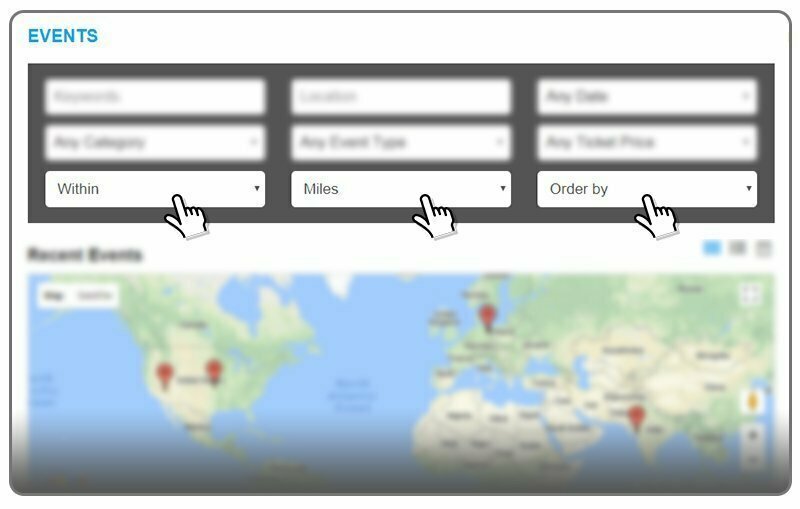 Sell Tickets
This is another premium extension. Nowadays most of the events are paid. Concert, seminar, training etc event are usually paid. For collecting and managing income, you can integrate this event plugin with WooCommerce and can sell ticket online. You don't need any separate table for the registration and money collection.
Google Analytics
With the help of this extension, you can get detailed information about the event with google analytics. While registering at Google Analytics, you will be given a code and you need to use that code in the plugin for the integration. See the sample screenshot below. After that, you will have detailed information about the event in your analytics dashboard.
Detailed Documentation
No matter you are going to use this plugin for the first time. Detailed documentation will help you to use and customize the plugin. Each and every step are written in such a way that you don't need to worry about the process and procedure.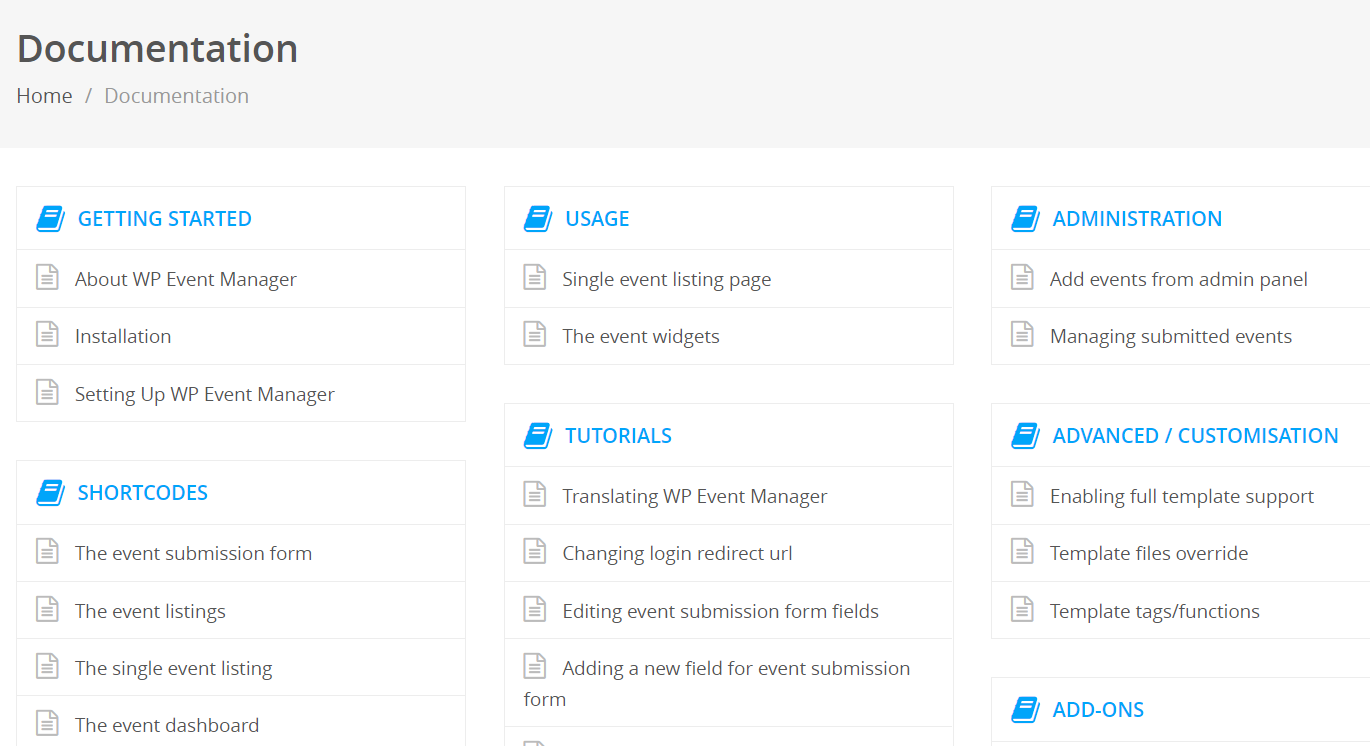 Besides that you can purchase some more premium extensions. They are,
Calendar
Registration
Attendee Information
WooCommerce Paid Listing
Recurring Events
Event Alerts
Bookmarks
Embeddable Event Widgets
Colors
Sliders
Event Tags
Eventbrite Integration
Organizers
Contact Organizers
Export Events
iCal
Google ReCaptcha
Theme Compatibility
No doubt, all our free and premium themes are fully compatible with WP Event Manager. You can start adding an event on your existing site or can make an event portal with our theme using WP Event Manager.
Moreover, this WP Event Manager is compatible with popular themes likefree WordPress themes.
Conclusion
While searching for an event management plugin, you will get a number of results. Based on it, you need to choose the perfect plugin among them. However, choosing a suitable plugin is really a tedious job. Because each and every plugin looks similar.
Not only features, but you also need to look for the products ratings, support, updates, and the available premium extensions as well. Hence, WP Event Manager is the best ever plugin developed for the event management WordPress website. Personally, I fully recommend this plugin. Download this now and start a WordPress website.
Do you have any recommendation or suggestion regarding this plugin? Please write your comment below.
You may also like: