There are thousands of free WordPress themes available in different shops and marketplaces. All of them are created elegantly, meticulously and carefully, however, they are not perfect for everyone needs. From the list of available themes, today we are going to talk about one awesome lightweight and minimal page builder WordPress theme named OceanWP. OceanWP is the perfect theme for any types of website including a blog, magazine, e-commerce, corporate, medical and many more. It is also a Gutenberg compatible WordPress theme. Hence, we say that this is a complete theme for everyone.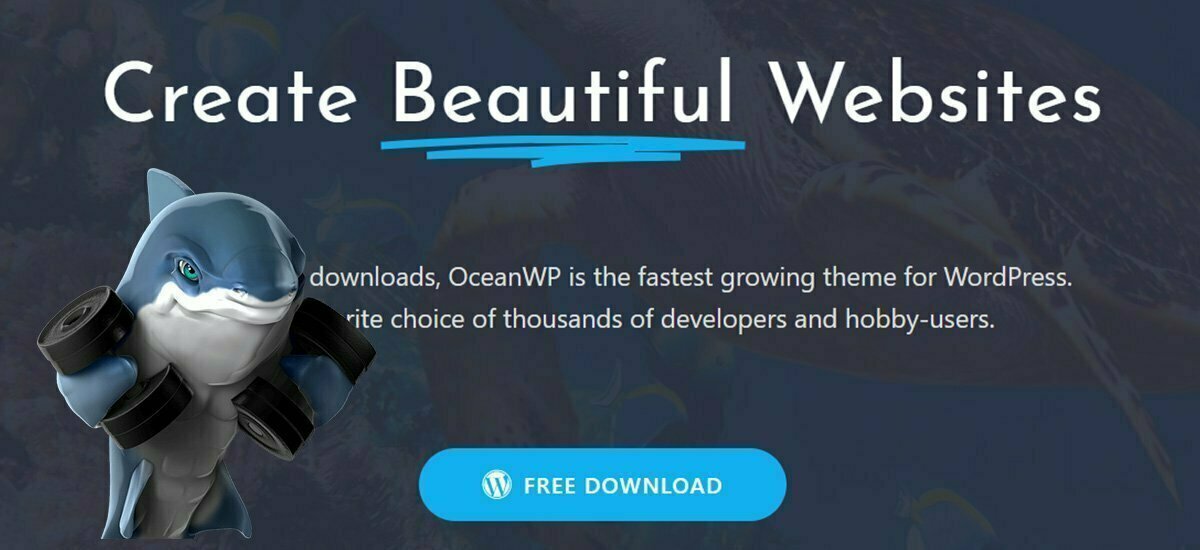 OceanWP is the fastest WordPress theme with one click demo import feature and customizer based theme settings. In addition to that, it is completely page builder theme. Thus, you can create your website easily with unique design as well. OceanWP offers tons of features in the free version and some added features are available with the extension bundles. You can purchase the required extension to add more flexibility to your website.
Do you know OceanWP is the popular theme? As per the statistics of WordPress.Org, it powered more than 300,000 website and it is increasing day by day. It has more than 2000 five star ratings and users are very much satisfied with this theme.
In this blog post, we will show you the features, setup instructions and more things related to OceanWP. So, stay on this page. OceanWP is a layman theme, so don't worry you are new with WordPress. Detailed video and text documentation will guide you on all steps while using this page builder WordPress theme.
Key Features of page builder WordPress theme OceanWP
There are ample of meticulously developed and carefully crafted features available on this theme. Here are some key features listed below.
Fully Responsive
Fastest Load Time
eCommerce Ready
SEO Built-in
Translation Ready
RTL(Right to Left) Ready
Incredible Support
Completely Free
Elementor Page Builder Ready
One Click Demo Import
Cross-browser Compatible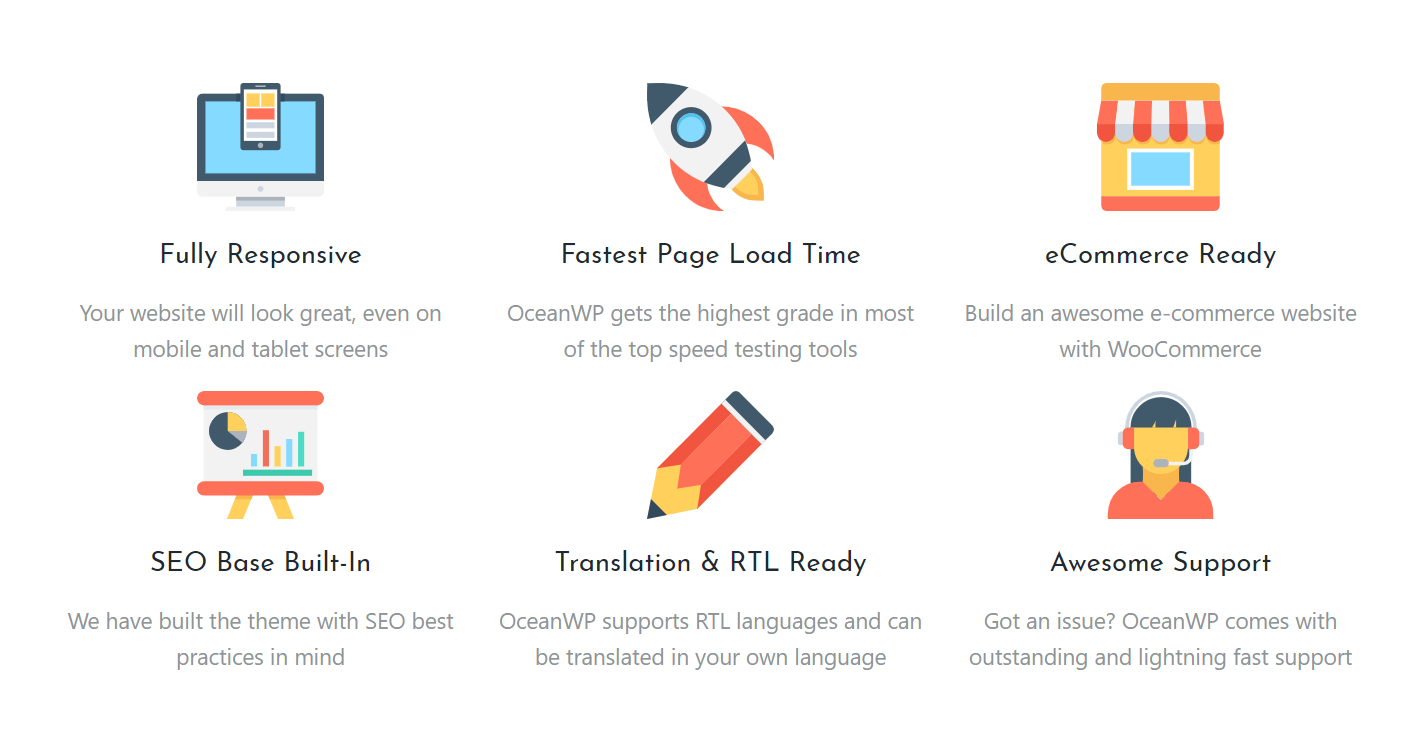 Besides that, there are a plethora of features available with OceanWP. We will discuss all of them later.
How to install OceanWP?
Installing OceanWP is same as installing other WordPress themes. You can either download the theme from OceanWP.Org or you can download plugin via WP.Org.
Go to the admin dashboard
From the admin, menu go to Appearance > Themes
Click on Add New
Search theme name OceanWP or check the Popular tab.
Click on Install and then Activate
Your best WordPress theme is now successfully installed and activated on your website. Now, you can customize and change the layout of your website with the help of available features.
Run the Setup Wizard
If you are new with this OceanWP theme, we recommend you to go with the setup wizard. It will guide with you easy steps to use and customize the theme. After activating the theme, you will get a notification on your dashboard about the setup wizard. If you are familiar with the theme, you can skip this step and can jump directly with the demo import. It is discussed in detail below.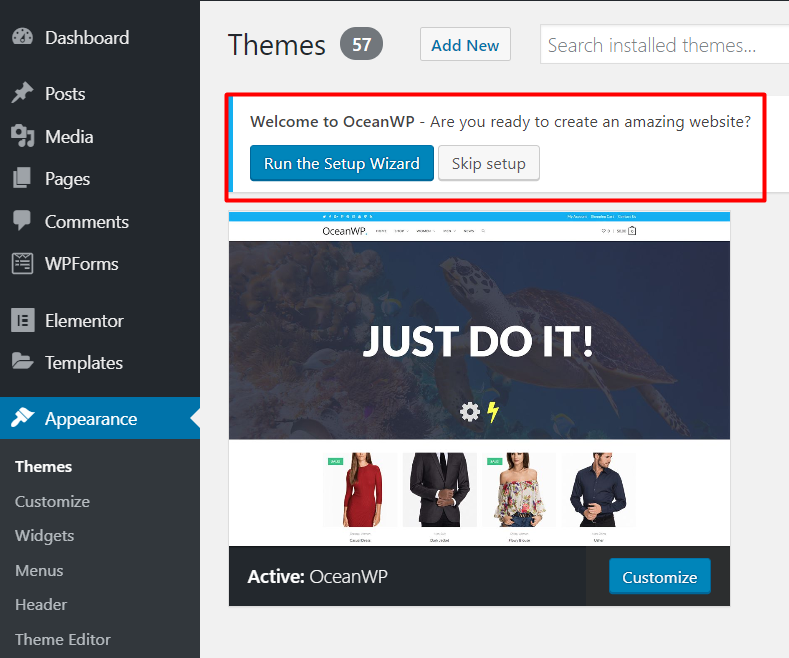 Welcome Step
In this step, you will get a welcome message. You can either skip this wizard or can continue the setup.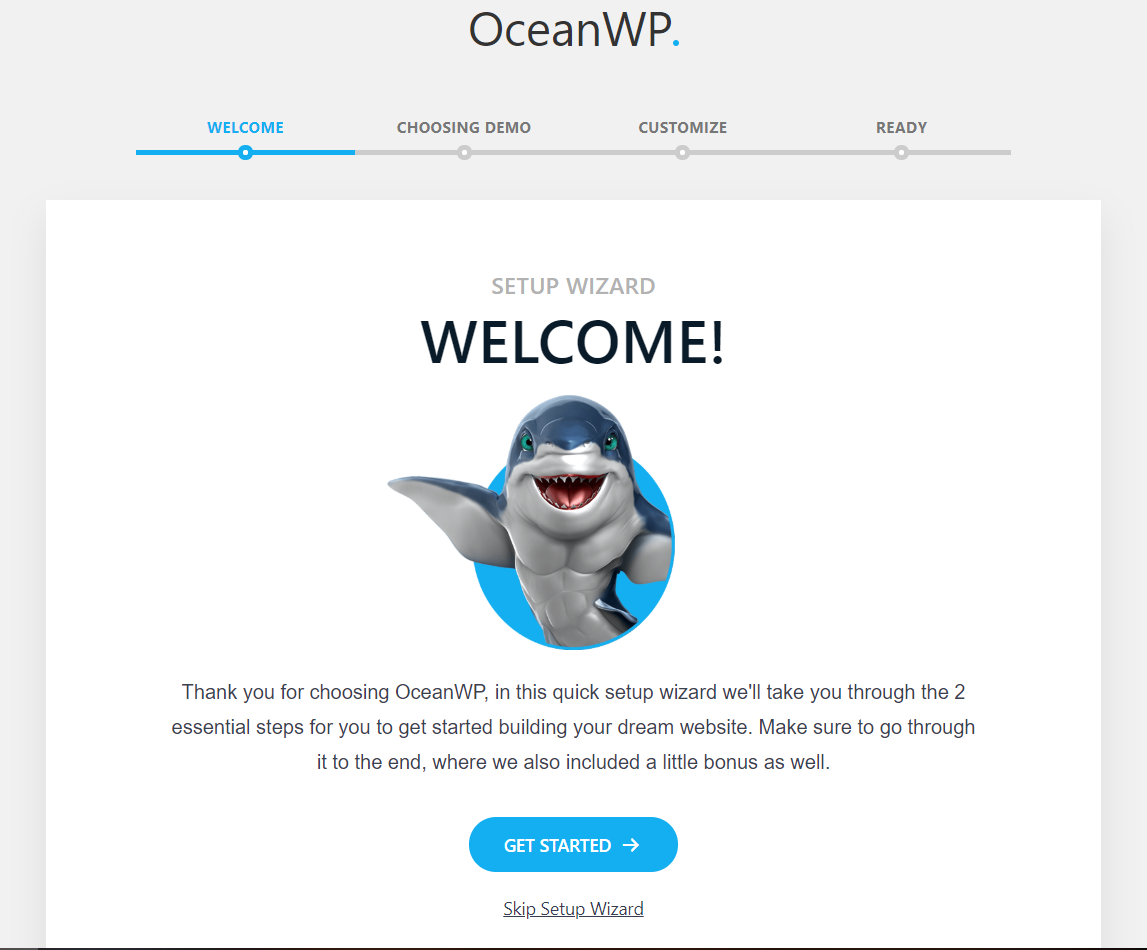 Click on Get Started to run the setup wizard.
Selecting your demo template
After clicking on get started, you will get another page for the demo import. In this step, you will have all the available demos. You can select the demo and click on Install Demo button at the end. You need to wait a few seconds to complete importing the demo.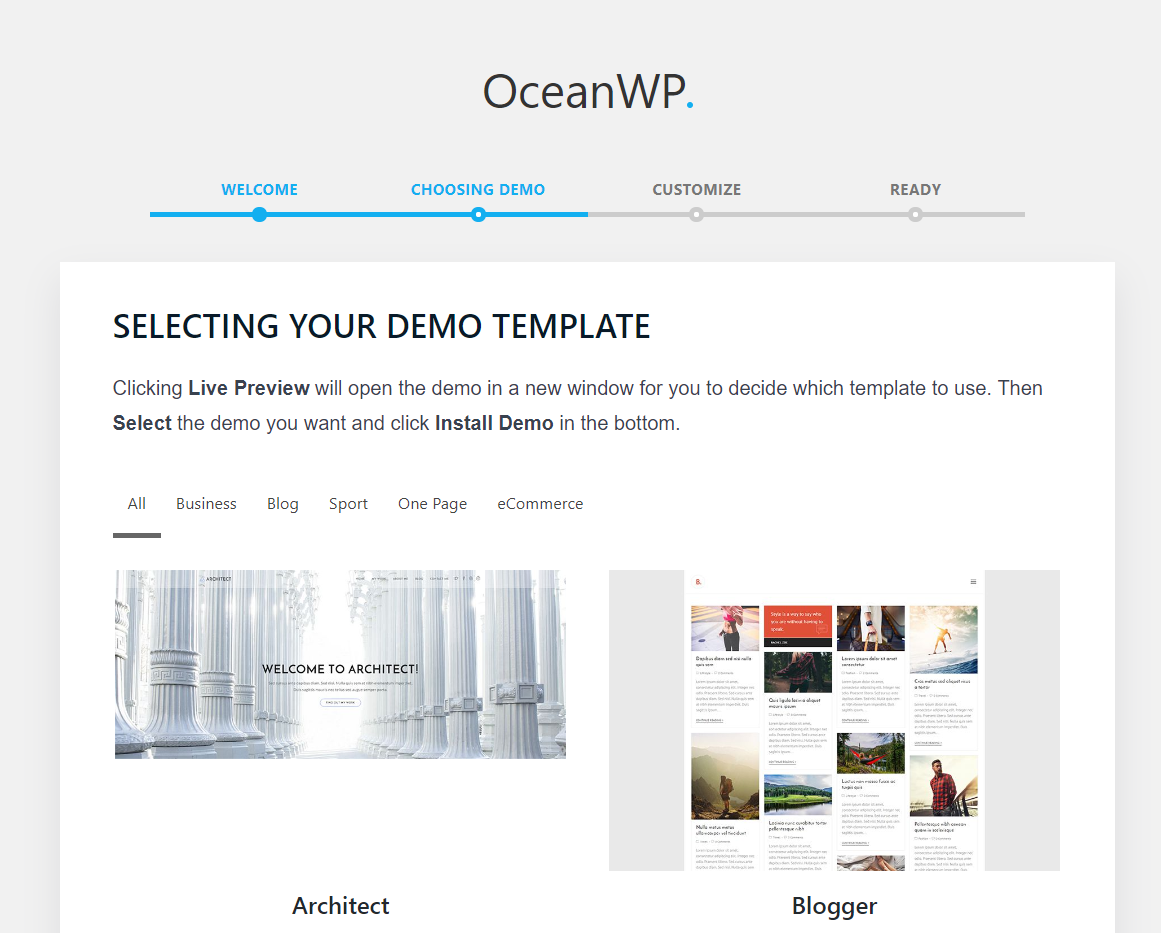 Customize
In the next step after the successful demo import, you can start customizing your website. Check all the available settings inside Appearance > Customize as well as inside the Theme Panel of the admin dashboard.
One Click Demo Import(Without Setup Wizard)
After installing the theme, at first, you may want to make the site like demo. For this, OceanWP comes with one click demo import. On that note, in the beginning, you need to install and activate the recommended plugins from the list.

After installing and activating the recommended plugins, you will get the option to import the dummy content. In the free version, you will have 13 different types of demos. You can select anyone from the list and can import it.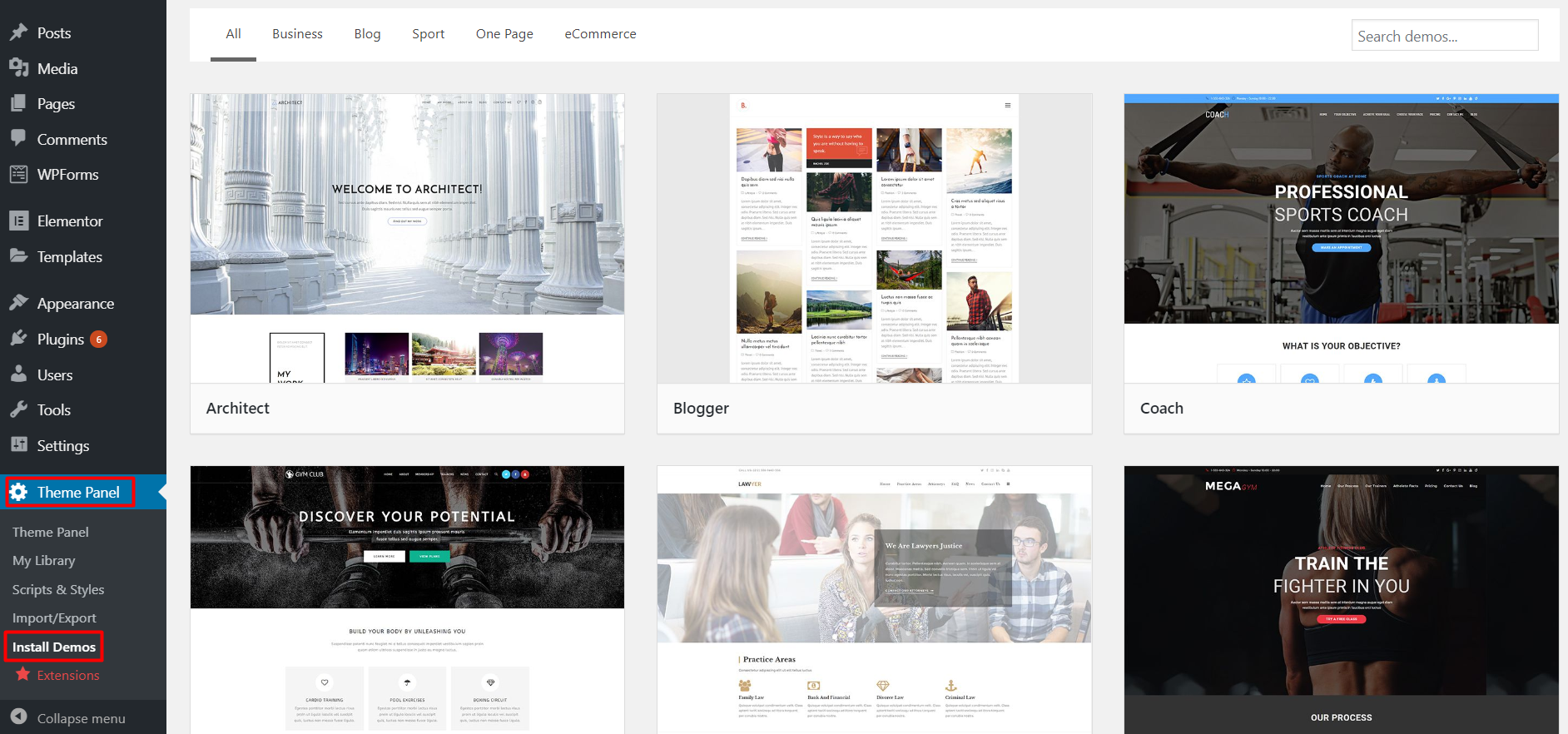 Now, your website will look like the demo. After importing the demo content, you need to change the content with your own post, pages, and other necessary information.
You will have 21+ demos in the premium version.
Getting Started with a theme panel
In the next steps, you can use the theme general settings to manage logo, favicon, primary color, typography, header and footer options and many more. In these basic steps, you can set the general requirements of the website first. Go to Theme Panel from the admin dashboard and choose the theme panel. You can see the below screenshot as well.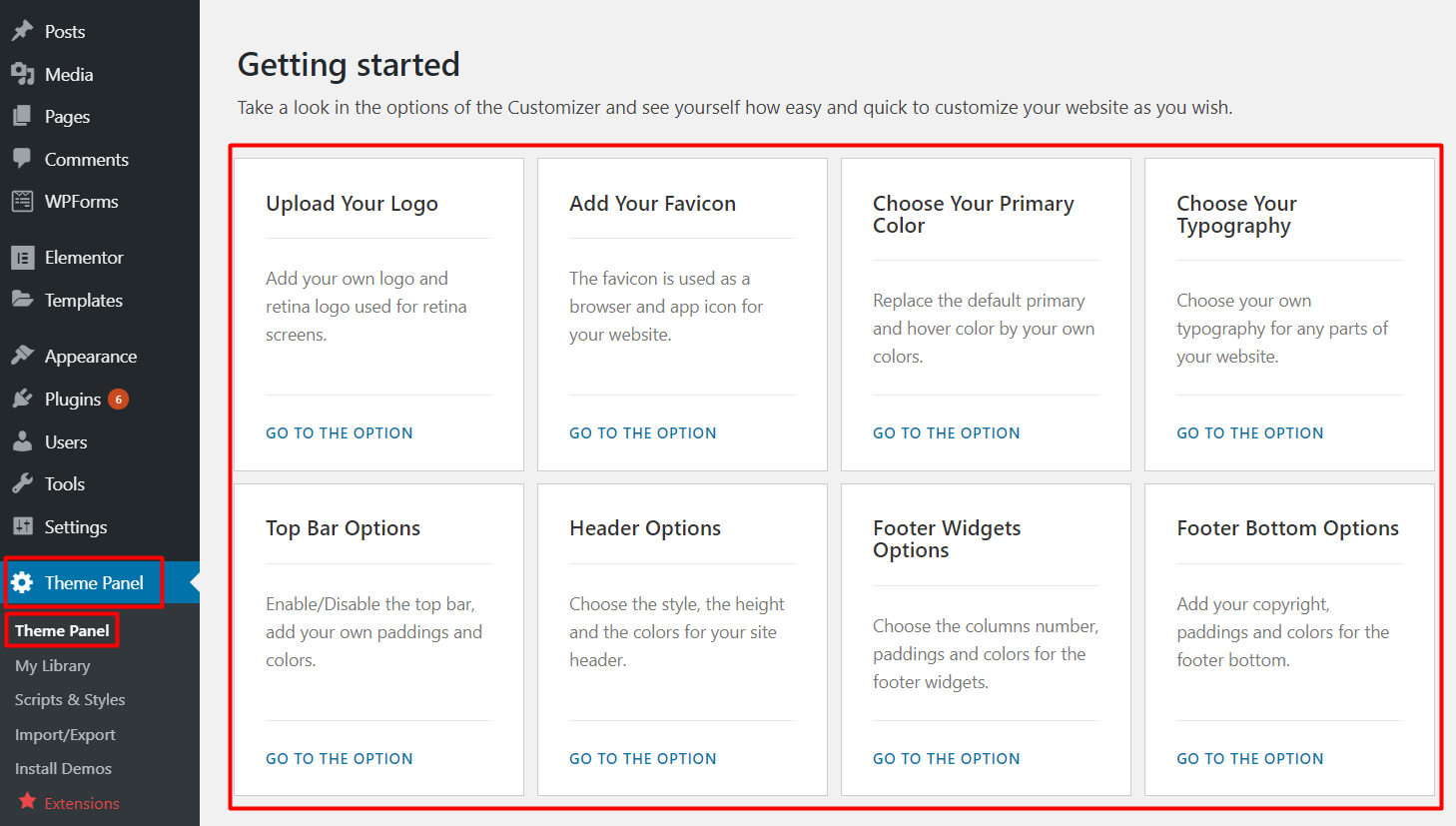 Check all the setting before moving other section of the website. Now, let's elaborate some features of OceanWP.
Page builder compatibility
It is fully compatible with all popular and major page builder plugins named, Elementor, Page builder by site origin, Divi, Brizy, Visual composer, King composer, beaver builder and thrive architect, etc. With the help of this popular page builders, you can make any types of the website easily.

All this drag and drop builders are easy for layman as well. You can simply drag and drop the page sections of your website. There were so many popular themes which don't support page builder. Thanks a lot, OceanWP team for making a theme which supports all major and popular page builders.
Premium Add-Ons
No doubt, the free version is best among all the other WordPress theme. However, the paid extension has some added features on it. OceanWP has more than 20 different types of add-ons plugins available. You can buy the required extension for your website.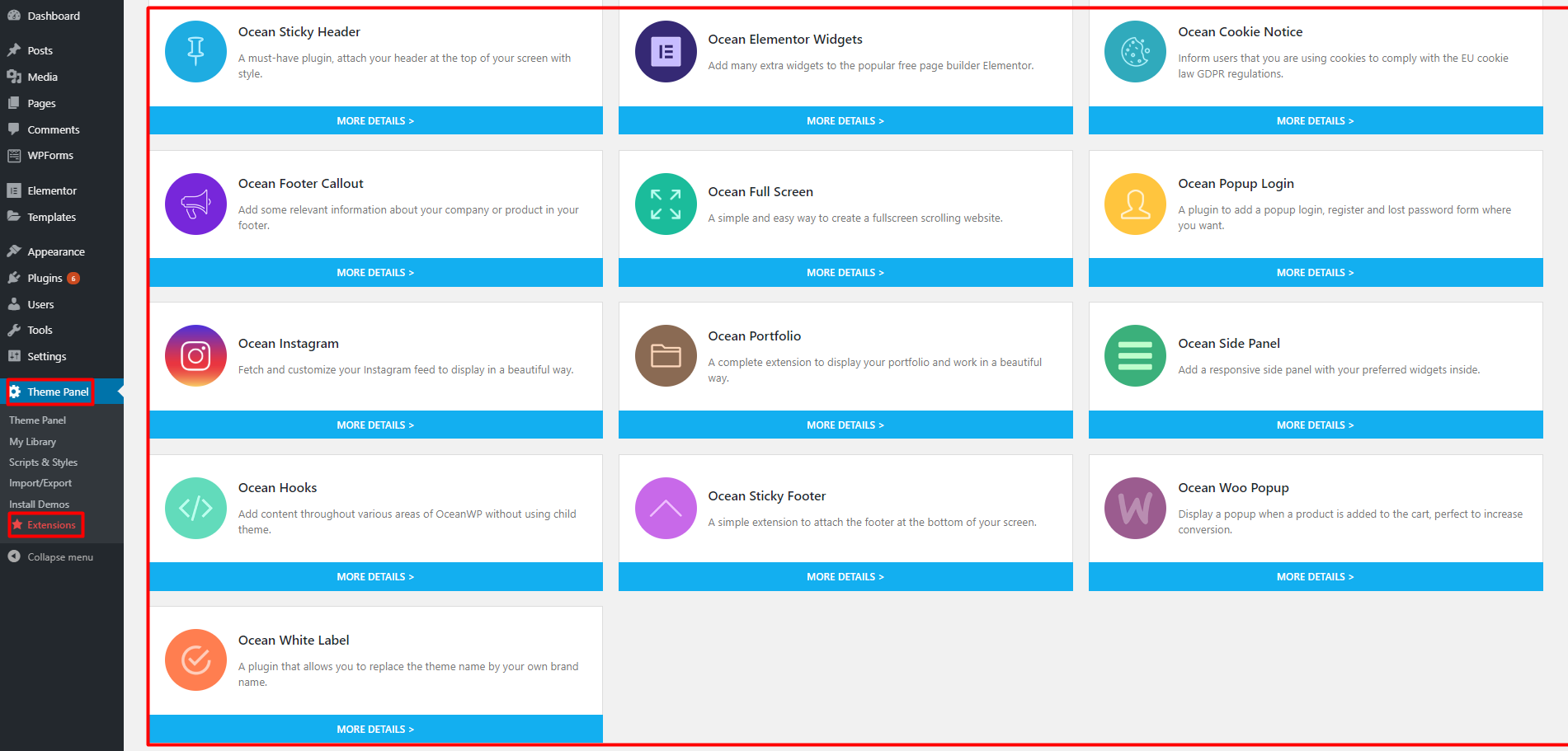 Every plugin has its own usage and importance for your website. Some of the available extensions are,
Stick Anything
Full Screen
Ocean Popup Login
Sticky Footer
Woo Popup
While level
Instagram and many more.
Likewise, it has cookie notice, hooks and portfolios and many more. You don't need to purchase all items unless and until it is necessary because you can purchase the required premium extensions.
WooCommerce Ready Theme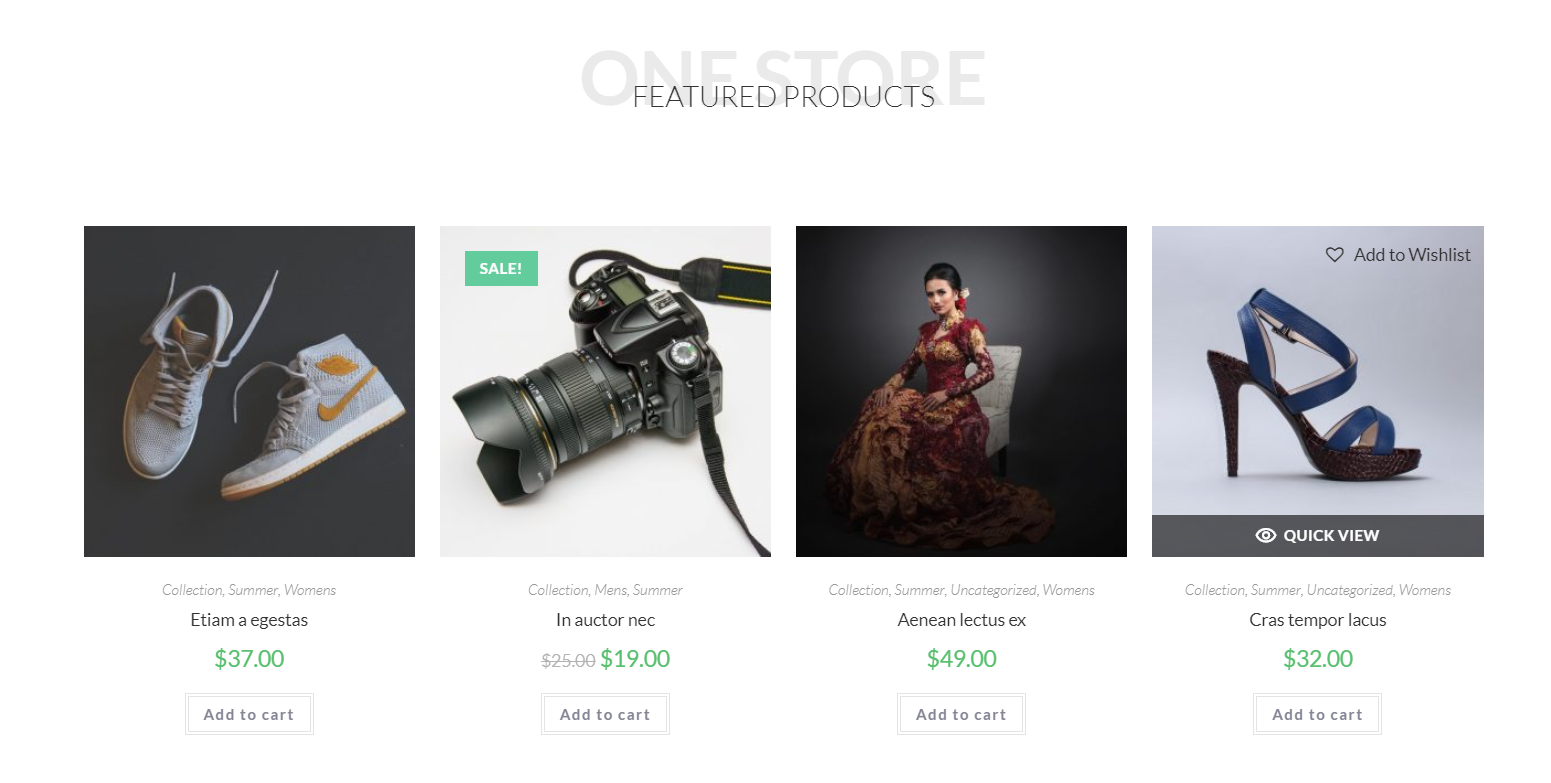 For an online shop and e-commerce store, OceanWP is a suitable theme for you. You can easily integrate payment methods and add items in your website and start earning. Thousands of users are using this theme for their online business. It is easy and more flexible with premium add-ons too.
If you are excited to see how the e-commerce sites will look like with OceanWP, here is the demo.
Fastest WordPress Theme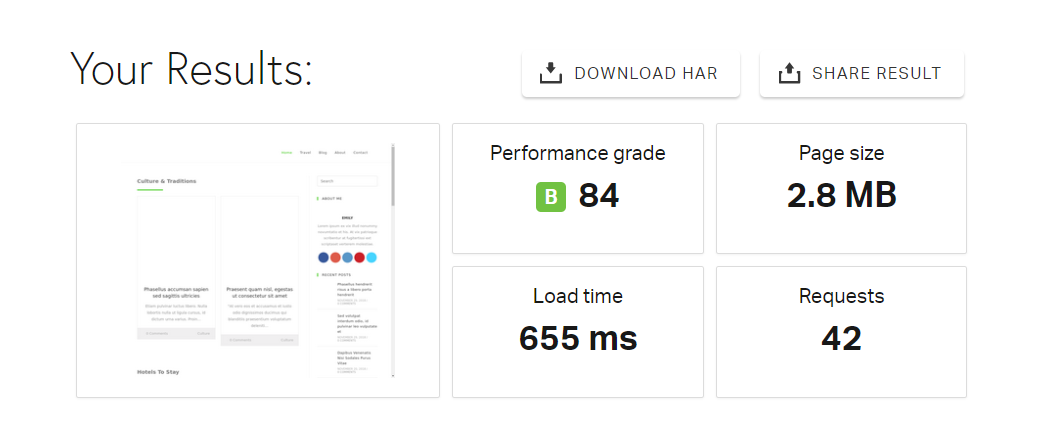 There is no other theme which is fastest than OceanWP. According to Gtmetrix, Pingdom, google page insights and many other popular website testing tools, the demo of OceanWP is the fastest in comparison with the other themes demo. The average load time is less than 1 second. This is really incredible for the owners because of website speed matter. Speed is one of the greatest things you need to consider while choosing a WP theme.
Theme Options Via Customizer
Customizer API is the latest technology for a WordPress theme and users can see the live preview before publishing or refreshing the browser. To see the settings of the theme, you can go inside the Customize via the Appearance of the admin panel.
Some of the settings available inside the customizer are,
General Options – It includes some basic color and stylings.
General Settings – You will have options to manage boxed or full layout, go to the top and many more.
Pagination Option – Manage each and every entity of the pagination.
404 Page – You can use your own template as well. Select from the dropdown option.
Typography – It includes each and every setting of the font for all sections. You don't need to worry about size, font type, padding, margin, etc. You will get everything.
Top Bar – Manage the top position of the website header.
Footer Setting – Customize your footer based on your need.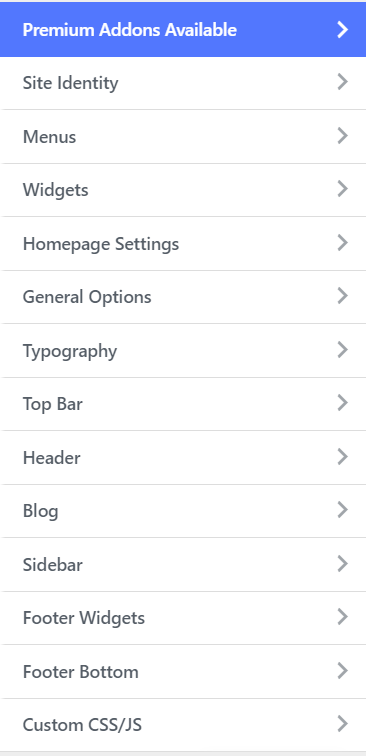 Furthermore, there are numbers of other options available inside the customizer settings. So, you can download the theme and check it once. Indeed, this theme is really incredible and breathtaking. Honestly speaking, it is the King of the theme.
Detailed Text and Video Documentation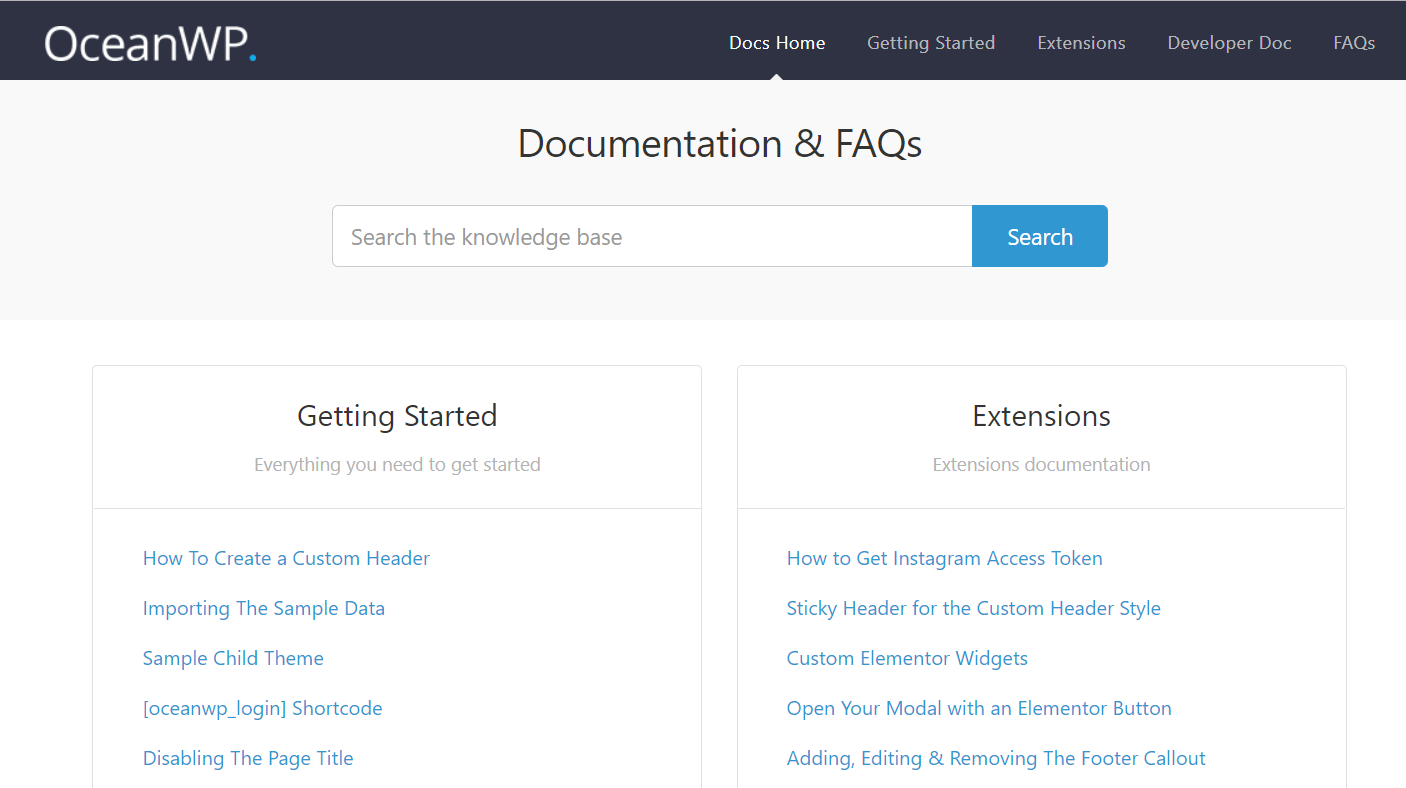 As we said before, this is a layman theme. With the help of documentation which includes both text and video, will guide you to use and customize the theme. In the documentation, each and every small entity are mentioned in such a way that you don't need to worry about how to use the settings and how to customize your website.
Incredible Support
Even though you are following documentation and setup instructions, you will be faced with some unpredictable problem. To get rid of that situation, you can directly contact the author for help and support. OceanWP is renowned because of its extraordinary support. They have a dedicated support team and they provide instant support without any hassle.
The first priority is given to the premium users, however, free users will get support in time. We are sure that you will never get support like this. Trust us.
Affordable Pricing Plans for Premium Extensions
Last but not least, OceanWP has the premium extensions to increase the flexibility and features for your website. From OceanWP, you can easily purchase those extension based on annual and lifetime package. Moreover, it offers both the bundle package as well as individual extension too.
For the bundle package, price starts from $39 and you will get all the extension for one site for a year. Whereas, you can buy the same package for a lifetime with just $159. Isn't that great? See the below screenshot to know more about the pricing plans.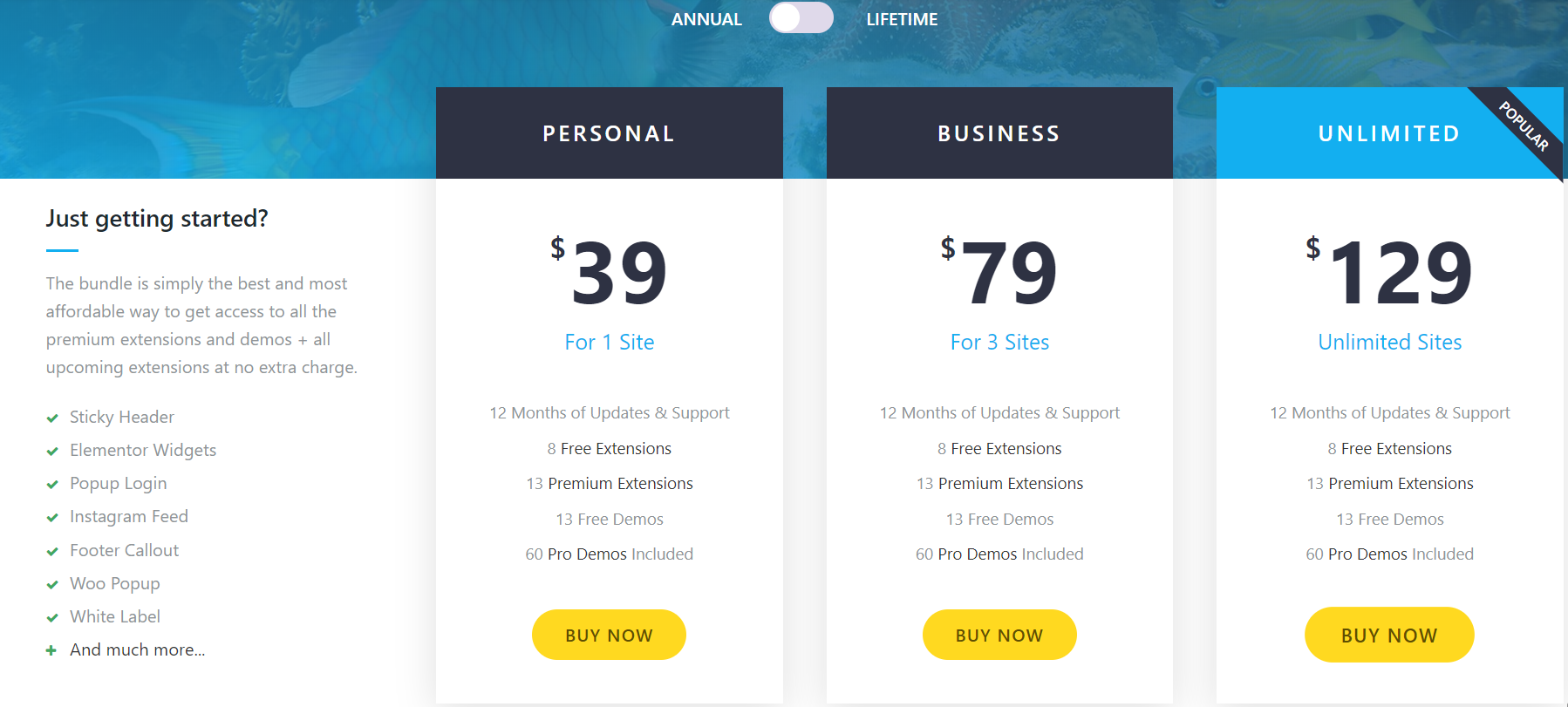 If you are wondering about which plan is suitable for you, drop your comment below. We will guide you with this decision. We will analyze your requirements and suggest the best plan according to your need.
Final Thoughts
Those who are looking for a free WordPress theme, OceanWP is the best theme for you. Its features, flexibility, support, and documentation is the key factor in its popularity. There is no any other theme which can be compared with OceanWP.
This theme places every setting in such a way that you don't need to save it to see the changes; customizer based settings. Thus, your visitor will never know what is happening on the backend.
Furthermore, it is a totally secured theme. Codes are written in such way that it is compatible with all page builders, popular plugins like contact form 7, Yoast SEO and many more.
With the help of drag and drop page builder, you can make any page with the required design. You don't need any idea regarding codes and programming skills. It is 100% easy theme.
If you are using this theme, please don't hesitate to comment below about your experience. If you are planning to make a new website or want to redesign your existing one, OceanWP will be the best option for you. Download once and try it. You will never think about the alternative theme.
We recommend you to go with the premium extensions bundle if you need more features. You will get first priority support while using the premium extension.
Do you have anything to tell about this theme? Please leave your comment below!
You may also like: