Selecting a WordPress plugin to handle a mission-critical function of a client's website can be nerve wrecking. You don't want to invest time setting up a membership management system that is difficult to navigate or doesn't have good reporting. In selecting a membership plugin, I insist that it:
Offers all of the "must have" features on the client's list
Earned high ratings on the WordPress plugin repository.
Answers support questions promptly.
Remains current with the latest version of WordPress.
Offers ongoing support or training directly to the client. Developers and designers like to keep out of that support loop whenever possible, right?
MembershipWorks meets these criteria — especially for associations, chambers, groups, clubs and nonprofits. It offers recurring billing, members-only content, a member directory, online event registration, a calendar, forms, carts, donations, integrations and more. Although it is a paid plugin if you need more than 50 accounts in the system, the fees can be billed directly to your client. You'll have peace of mind; unlike many membership plugins, MembershipWorks will host member data, provide free training for your client and handle key functions like recurring billing. No HTML or code knowledge is required to set up the system, although that knowledge does come in handy for customizations.
For purposes of this setup checklist, we'll assume that you already have a WordPress site built or under construction.
Video credits to : Seoprolabs agency
1. SIGNUP FOR A FREE TRIAL & INSTALL THE PLUGIN
A free trial helps ensure that the plugin meets your needs without spending money. The only restrictions of the 50 Free plan are:
A. Limited to one administrator.
B. Forms, carts or donations features are not available.
C. Can't take payments for event tickets.
After signup, download the plugin and install it. Log into MembershipWorks through WordPress. To connect your MembershipWorks account to the plugin, go to MembershipWorks & Organization Settings and copy the Organization ID. Then save that ID in the membership works & Plugin Settings.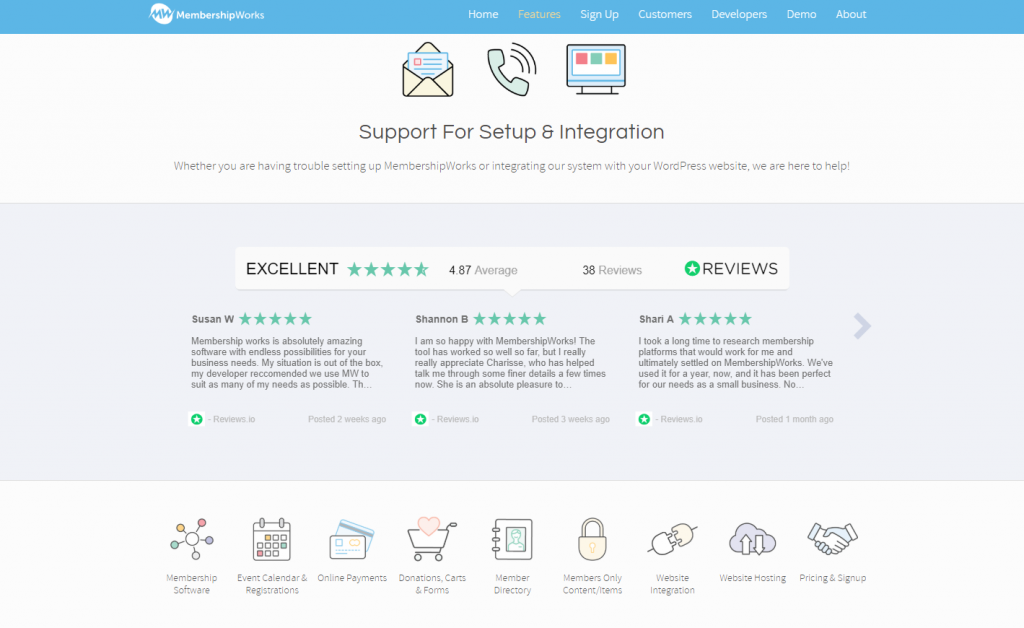 2. SETUP THE PAYMENT PROCESSOR
To accept payments online with membership works, you or your client will need to set up an account with Stripe, Authorize.net or PayPal Pro (note that this is not the free version of PayPal; you'll also pay more if you want recurring payments). Stripe is the preferred payment gateway for most organizations as it doesn't charge a monthly fee; transaction fees are the same or similar to Authorize.net and PayPal Pro. MembershipWorks does not add on fees to these transactions.
3. ENTER THE PAYMENT GATEWAY SETTINGS
Set up the payment processor, currency and tax rules under MembershipWorks > Organization Settings > Integration. Look for popup windows with screenshots of each payment gateway to help.
4. ADD THE MEMBERSHIP, EVENTS & DIRECTORY PAGES TO THE WEBSITE
Shortcodes make it simple to add MembershipWorks features. Steps involved:
A. Build a new page in WordPress for the feature (such as a join page).
B. Pick the feature you want from the dropdown at MembershipWorks > Help > Basics & Setup > WordPress > WordPress shortcodes. Copy the shortcode.
C. Go back to the page you just built and paste the shortcode in the page editor's body text area.
D. Publish the page.
E. If you are working on a development site and not a live site, add this page in Appearance > Menus to your navigation to make the page easy to find.
5. CREATE MEMBERSHIP LEVELS
The client may have an existing list of membership levels in a form that you can reference for this step. Other information that is helpful to have on hand:
Welcome letter text.
Billing options:

Does your client want to offer offline or check payments, one time credit card payments and/or auto-recurring credit card payments?
What are the payment intervals — monthly, yearly or other?
Will renewals be on a fixed annual date or rolling renewals?
Is there a trial period or a new member fee?

Renewal letter text.
6. CREATE LABELS
If the client has a directory that needs to be categorized by member specializations, business type, certifications or other groupings, create labels in MembershipWorks > Labels & Membership > Labels for each type or category. Labels can also be used for internal purposes.

7. CUSTOMIZE YOUR SIGNUP FORM & MEMBER FORM
Head over to MembershipWorks > Customization > Member Sign-Up to add or remove fields in the About tab. Keep the number of fields low; potential members should not feel like signup will take too much time. Create custom fields by clicking "Add Field." If you want to collect additional information immediately after sign-up, add fields to the other tabs such as "Profile." Once you are done with editing the sign-up template, click Copy to copy your work to both the Member Manage and Admin Profile form.
8. IMPORT MEMBERS
Ask your client for a spreadsheet of current members. At minimum, for each member you should import:
Account name (which can be a business or person's name depending upon how members are listed in the directory),
Email
Membership Level,
Renewal Date.
You can also import labels, custom fields created in Step 7 and other system fields. See MembershipWorks > Help > Membership > Importing Members for a complete list. Add yourself as a test member to test out functionality from a member perspective.

9. CREATE EVENT CATEGORIES
Your client can advise if they need different categories for events such as meetings, conventions, lunches, etc. You only need to create different event categories if you want to:
Create calendar page(s) that only reflects specific categories
Have one or more event categories where members are allowed to post events, or
Have one or more event categories that only members or certain groups/levels should be able to see. Alternatively, you can opt to allow everyone to see all events, but you can choose to create tickets that are only available for certain members/labels.

10. ADD EVENTS
Add in the first event at MembershipWorks > Event List. You'll need the basics: event category, who, what, where, when, why and how much. Each event can have an image; images should be a maximum of 800 pixels wide and 300-400 pixels high. See Help > Events > Setup Event > Creating An Event for details.
11. CUSTOMIZE DIRECTORY SEARCH
The directory search template in MembershipWorks > Customization controls the search options for the directory. The template is organized as a list of search "Boxes." Types of searches available:
Keyword
Location
Labels
Fields
It's a good idea to have the front end view of the Directory open in another tab so you can refresh the page to see your changes.
12. CUSTOMIZE DIRECTORY PROFILE
In MembershipWorks > Customization > Directory Profile, you can edit and add tabs, hide information for certain categories of members and restrict information from being viewed by non-members.

13. ENABLE SSL
An SSL certificate is required to provide a secure website for credit card transactions. The hosting provider can explain how to obtain and install an SSL certificate if the url does not already include "https". After installing the certificate, "force" the pages to load over HTTPS
14. UPDATE NOTIFICATION & WEBSITE INTEGRATION SETTINGS
Once you have launched the new site, update the notifications and website integration settings under Organization Settings > Integration. While you are in Organization Settings, you can upgrade the account to a paid plan if the client's needs warrant it
15. TEST PAYMENT GATEWAY
Test the member signup form – complete a signup with a real credit card (refund yourself afterwards) to make sure members don't experience hiccups. Check that payments are recorded in the member Timeline and renewal dates are updated correctly.
This list reflects what most organizations need, but if you seek further customizations or get stuck, you can always reach out to the support with any questions.
WRAPPING UP!
Membershipworks & plugin by Membershipworks is a great way to build any membership website. You will be getting super straight-forward dashboard from Membershipworks which you can integrate with your current WordPress website.
If you are a beginner but willing to build a membership website then you should consider using Membershipworks along with it's WordPress integration plugin. In our view only the down side that we notice is Mmebershipworks has limitation when it comes to free trial. When you reach limited numbers of members you need to upgrade your plan. However, Membershipworks have flexible pricing based in the members volume.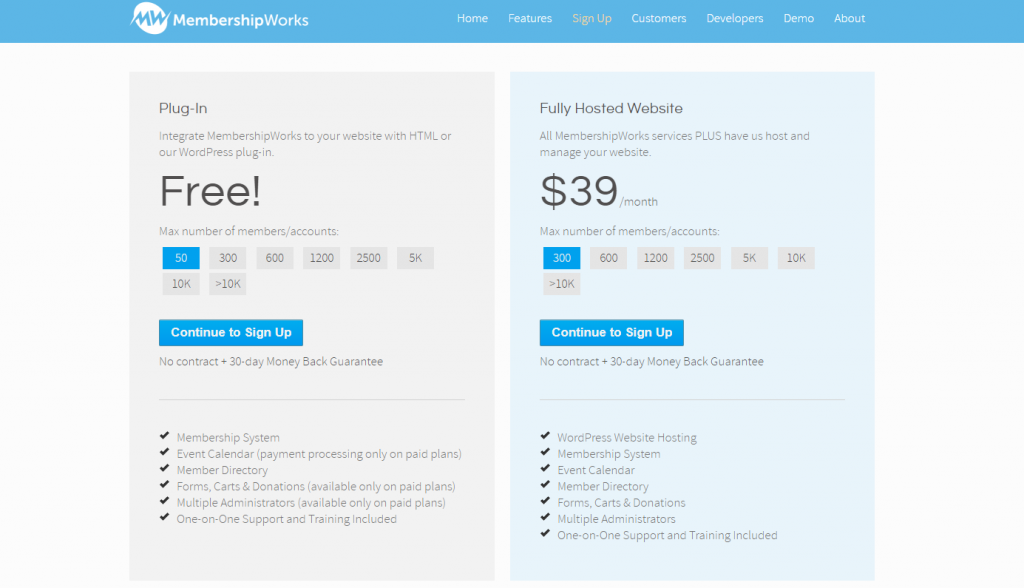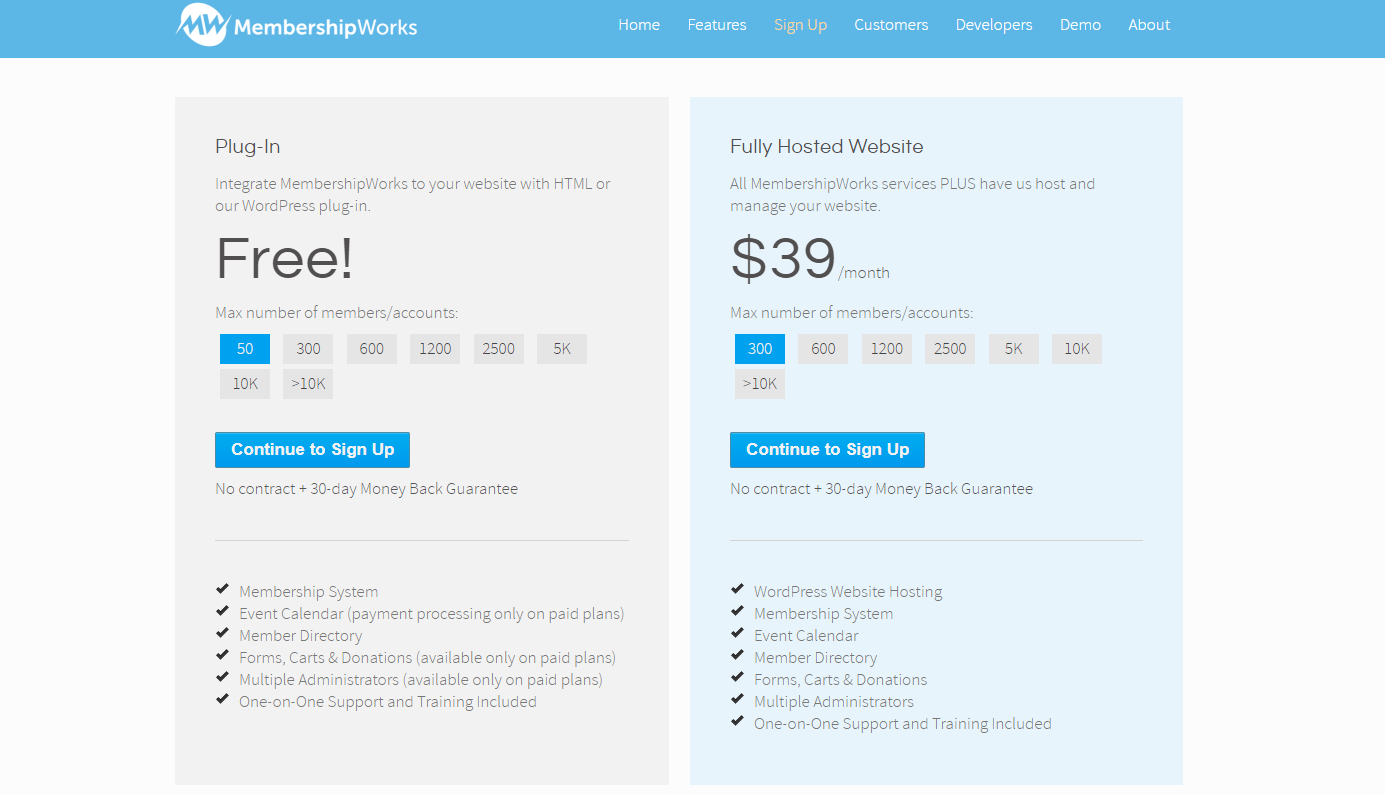 I hope, this article will help you to build your next membership website quickly & easily. You can share this article with your friends and comment down your opinion below.
Here are our others articles that might help you too: