Product Licencing
We are adding licence manager ( Product Licensing ) on our all premium products made by themebeez.com. This article will go through how this can be beneficial for you.
We are very happy today to announce that we have added a new feature & functionality for all premium themes/plugins. We have worked hard to bring automatic updater service on our premium themes/plugins just for you.
Licensing & auto-updates for premium themes/plugins are two different terms. Here, you need to understand "Licence Key" refers to the key that you need to activate our premium themes/plugin. Auto update is update/upgrade that you will get right at your WordPress dashboard.
What this means to user like you ?
Most important factor, to get auto updates/upgrades enabled on our premium themes/plugins you will need to have licence key valid & active. Non-active, expired & wrong license premium theme/plugins are not eligible for auto updates & updates on future.
Where can I get licence key & what should I do with this key ?
– Once you purchase our premium themes / plugins you will receive  a download file permission along with the license key at your mailbox & at your account too under orders > License manager.
–  Download the theme/plugin file & upload that to your WordPress installation.
– Enter your license when prompted after installing & activating our premium themes/plugins at license manager. ( Check screenshot below )
– Done !

What happens when you entered your license ? 
When you enter your license key that you have received, our server will check if the licence key is valid. If licence key is valid your key is activated. Else you will see the error message.
If you see something like this screenshot below, this confirms that your licence is active & valid.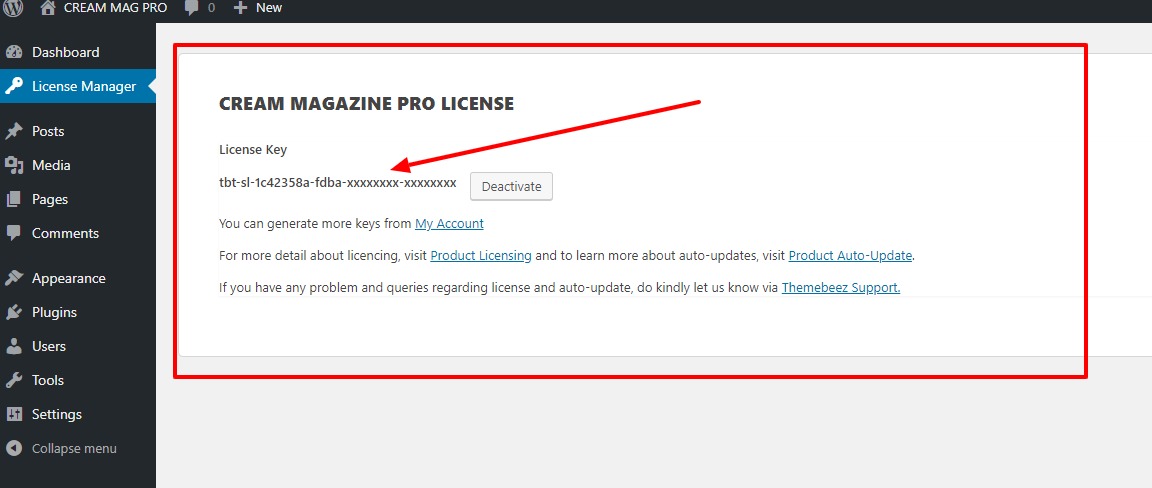 If your licence key is valid & activated you will be eligible to get updates for the product once that is available. If you do not activate the license for the product you purchased that's quite simple you will be getting no any updates/upgrades.
What are the types of license & what will that cost ?
While writing this article we are not quite sure what exactly will be the types of license but we are pretty sure that we will be having license something like this.
– Single site license: You can use this type of license in one domain only & the price will be regular price of the product. ( Currently only available )
– Multiple site license:  You can use this type of license in one to five domains & the price will be slightly higher then the regular price ( May be 10% more then regular price )
– Developer license: You can use this type of license for 100 ( hundred ) domains & the price will be 20% more then the regular price of product.
How can I use my licence key while moving from one domain to another ?
If you have multiple site or developer licence key that might not be a big deal for you but if you have bought single site license & you have already activated on another domain follow the steps below.
– Go to license manager
– Deactivate your licence ( If you get problem doing this do kindly let us know )
– Use that same licence on your another domain where you will be moving product.
– Done !
Hey, do I need to re-new this license at some point ? 
Yes, you will need to update this license once yearly if you wish to receive regular updates for the product. After doing a premium themes/plugin we do not stop there, we do regular updates & updates to keep our product updated & secure. We keep our product bug free. You will need to pay almost 30 – 40% less this time when you re-new your license. Let's say if product price is $44 then you will need to pay around $30 when you re-new your license after one year.
What happens with existing orders & existing users ? 
We would like to keep things civilized & easy for our loyal customers. We understand that we got to enroll our existing users with this system too. We will roll back your past orders & implement these system for all users.
I really cannot understand what is automatic updates for premium themes/plugin ?
We have written separate article for product updates, make sure you go to https://themebeez.com/product-updates/   page.
Should you have any questions, feedback & inquiry regarding licence manager & licence key ? Please feel free to contact support team from https://themebeez.com/support/  page.
Wish you a great day.
Best regards,
Themebeez.com Team