If you are a using our free product like themes or plugin then this is not intended for you. This article is for our premium product users.
We would like to welcome another great feature for our loyal clients & product users, here we introduce automatic ( product updates ) updater for all our premium themes/plugins. Our product updates will make sure, our users are always bug-free, secure & 100% updated once we release updates/upgrades for any premium product. Users will have a great privilege to install product updates through their WordPress dashboard at just one click like the way you do for free themes & plugins from wordpress.org.
HOW DO AUTOMATIC UPDATE WORK WILL WORK ON PREMIUM PRODUCTS [ EXAMPLE: THEMES & PLUGIN ]
To be eligible to get updates & free upgrades for products you need to have a valid licence key. You can get information about the licence manager & licence key from this page: https://themebeez.com/product-licencing/
WHERE DO I GET ALERT FOR UPDATE ON PREMIUM PRODUCTS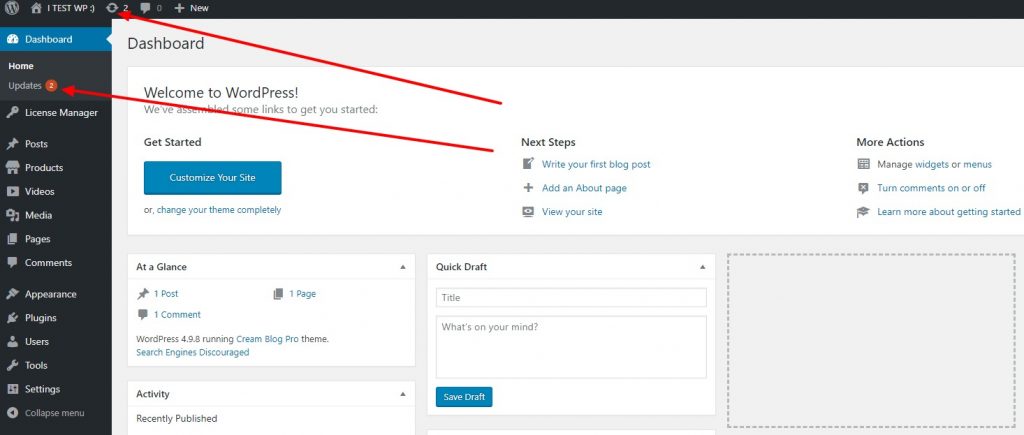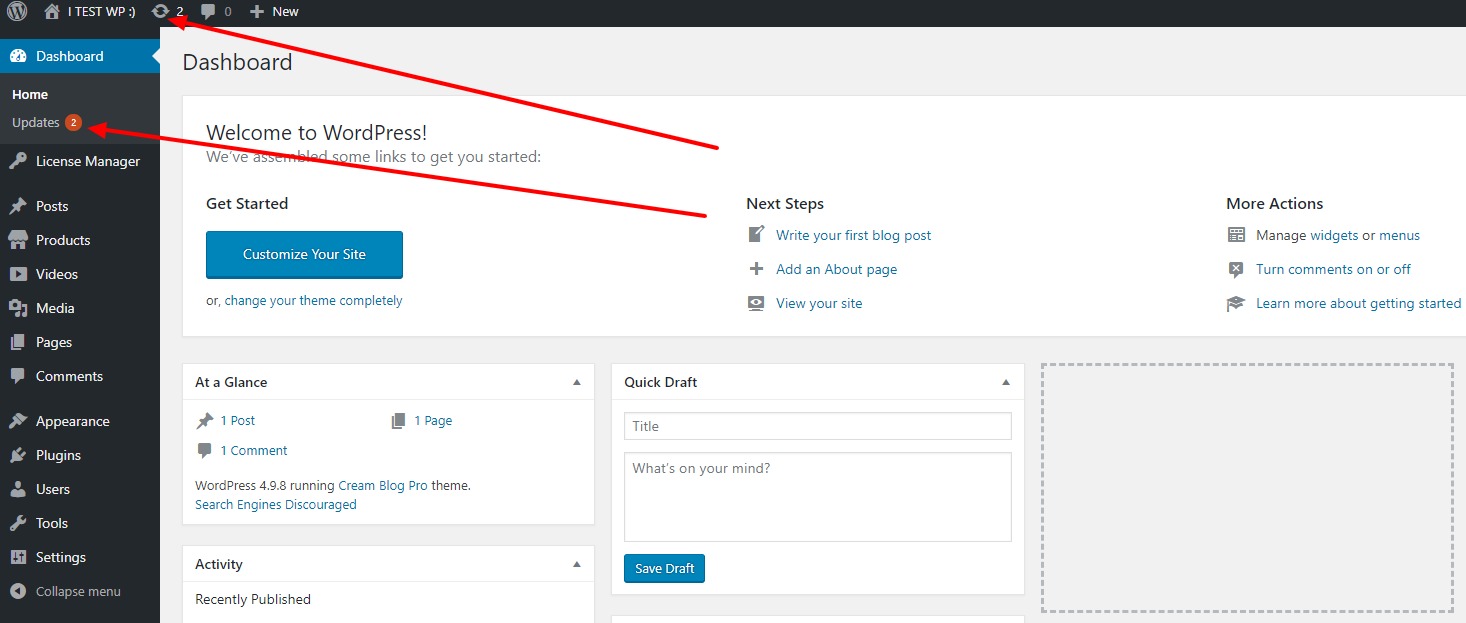 WHAT IF I HAVE CUSTOM CHANGES OR HAVE ADDED CUSTOM CODES IN PREMIUM THEMES/PLUGIN AFTER PURCHASE
We understand that you may have added some custom code to extend some functionality. Like for example, Maybe a custom CSS or javascript from google adsense or any advertising company. Here you need to understand how you can do safe update & keep your custom code with you.
CASE 1 : CUSTOM CSS
– If you have custom styles CSS at Appearance > Customizer > Custom styles you do not need to worry.
– If you have added any custom styles at theme file through Appearance > Editor or by any medium you need to back up that code. Update theme/plugin & again paste that code back to that file where you had before.
CASE 2: CUSTOM JAVA SCRIPT
If you had added custom javascript code to theme file through Appearance > Editor or by any medium you need to back up that code. Update theme/plugin & again paste that code back to that file where you had before.
CASE 3: CUSTOM PHP CODES
If you had added custom javascript code to theme file through Appearance > Editor or by any medium you need to back up that code. Update theme/plugin & again paste that code back to that file where you had before.
If you think you need assistance doing this do contact our support team. We will do this for you.
WHAT IF I HAVE CUSTOMIZED VERSION OF PREMIUM PRODUCT?
If you are using a customized version of our premium themes/plugins DO NOT install updates/upgrades via WordPress dashboard directly. Please contact support team & they will instruct you the steps or they will do that for you.
HOW OFTEN UPDATES & UPGRADES FOR PREMIUM PRODUCT ARE AVAILABLE?
We do not have an exact ETA for updates & future free upgrades. However, we do updates & upgrades when we feel necessary of it. It can be twice a day or once a week depending upon necessity. If you do not notice any updates/upgrades with-in 1 – 2 months make sure you check the product sales page for current stable version or contact the support team.
I HAVEN'T RECEIVED UPDATE FOR LAST 3 MONTHS!
Some times there might be a problem with our server or updater system. If you do not get an update for a premium theme/plugin where you have entered valid licence key & your key is not expired make sure you contact the support team immediately.
WILL I BE LOOSING MY DATA LIKE POST & PAGES DURING UPDATE?
No, you won't be losing any of your contents, pages, posts, menus or customizer options after updates. You might lose custom codes like ( Javascript, CSS & PHP ) if you have added to a theme/plugin file.
HOW CAN I TRACK THE CHANGES THAT WERE MADE IN UPDATE? DO YOU HAVE CHANGE LOGS?
For every updates/upgrades, we have changelogs. Changelogs refer to the logs for the changes what were modified, added or removed from the theme/plugin file. You can get this log from the product sales page, look for changelogs.
I ENCOUNTERED AN ISSUE AFTER AN UPDATE? WHAT'S NEXT?
You shouldn't have a problem while updating or after updating your premium theme/plugin. If you face any issue do kindly let the support team know immediately.
WHAT SHOULDN'T I DO WITH PREMIUM PRODUCT TO RECEIVE UPDATES & UPGRADES? [ INTENDED FOR DEVELOPERS ]
Designers/Developers do purchase our premium themes/plugins for their projects. Here are the things that you guys need to follow to receive future updates.
– DO NOT change text domain from style.css file located at theme directory ( Name can be changed )
– DO NOT change version for at style.css file located at theme directory
– DO NOT change version at updater/init.php file
WHY SHOULD WE UPDATE PREMIUM PRODUCT?
No product is perfect & 100% bug-free on any point. We do updates to make our product bug free & secure at all time as soon as we come to know issues & bugs. Regular updates will also make sure there won't be any compatibility issue with the latest version of WordPress. Your security means everything for us. Your security & satisfaction is our goal. We work hard to keep you bug-free & secure.
Upgrades: not only updates we also do upgrades for our premium product users. On upgrades, we add a new feature to our themes/plugins to keep you always ahead of the mass.
Should you have any questions, feedback & inquiry regarding licence manager/licence key & automatic updates? Please feel free to contact the support team from https://themebeez.com/support/ page.