Are you looking to monetize your website displaying Google Adsense, Custom banner ads or advertisement from other networks? We do have simple & flexible plugin for that.
Check Universal Google Adsense & Ads manager Plugin Here: CLICK HERE
INTRODUCTION
This documentation will guide you through entire setup process of the theme, if you have any questions feel free to write us at themebeez@gmail.com or drop a comment down below in comment section.
This post is dedicated Royale news wordpress theme documentation and this is only the official documentation till today for royale news theme. Royale News is a Premium WordPress Theme which is simple, clean and beautifully designed. The theme is fully responsive and cross browser compatible. Royale News is available both in premium and free version.
Let's start learning how to use the theme according to the requirements. Click on the images if they are not visible properly.
ACTIVATE HOMEPAGE
By default WordPress sets all theme to blog page ( NOT HOME PAGE ). Follow the steps below to activate the homepage in royale news theme.
Go to dashboard > Pages
Create new page with name something like "Home" Check for page template at the right bottom side. Click on template like shown on figure below. Check Frontpage.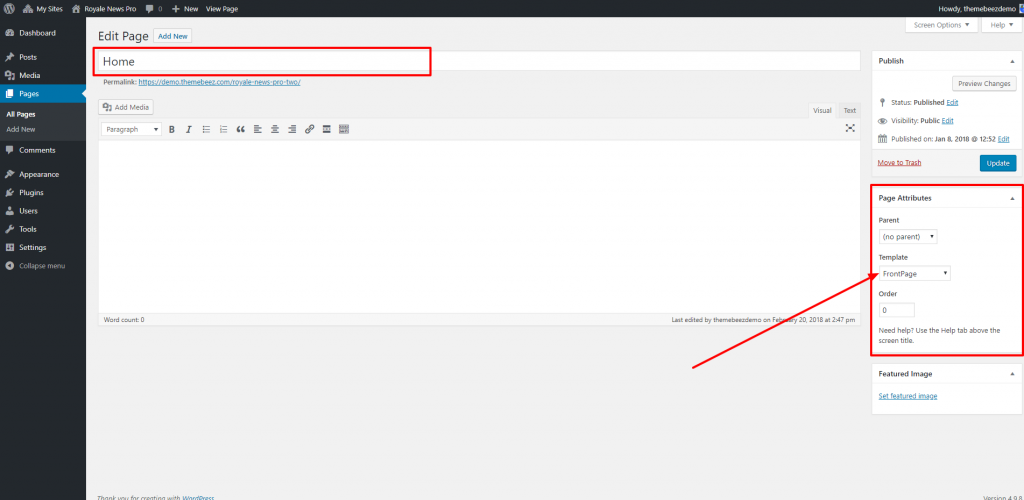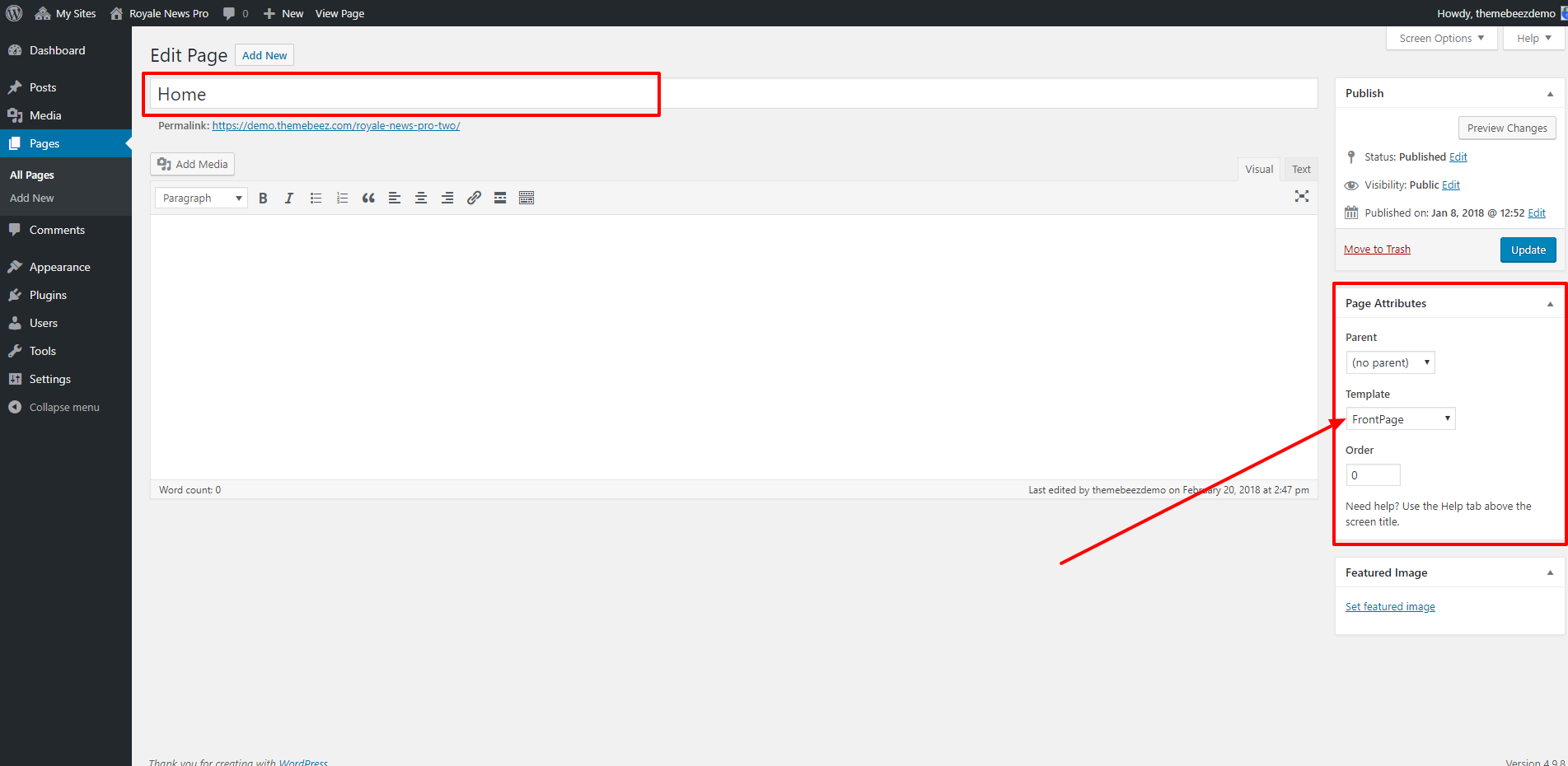 Publish the page.
Same way create a new page called "Blog" & select the page template Default template
Now it's time to set your pages as Front page & blog page
Navigate to Dashboard > Settings > Reading settings. Check the figure below.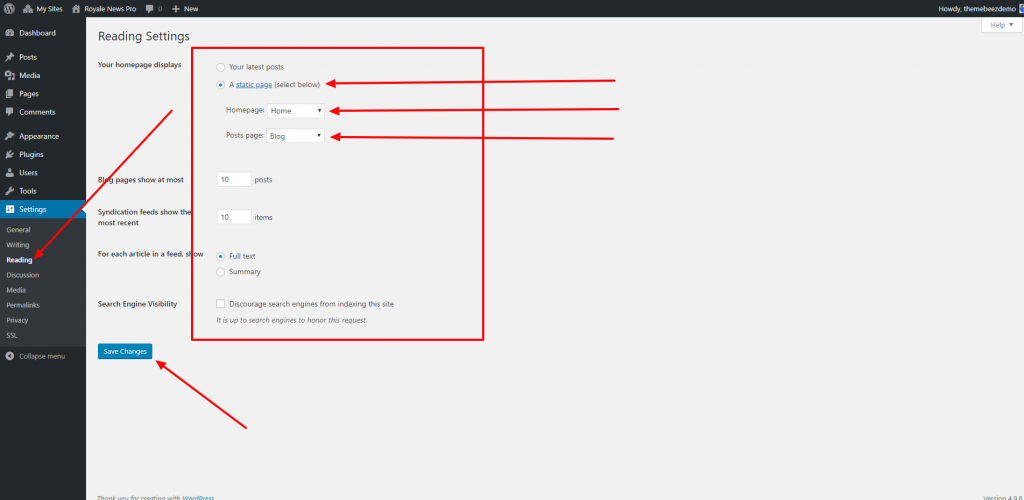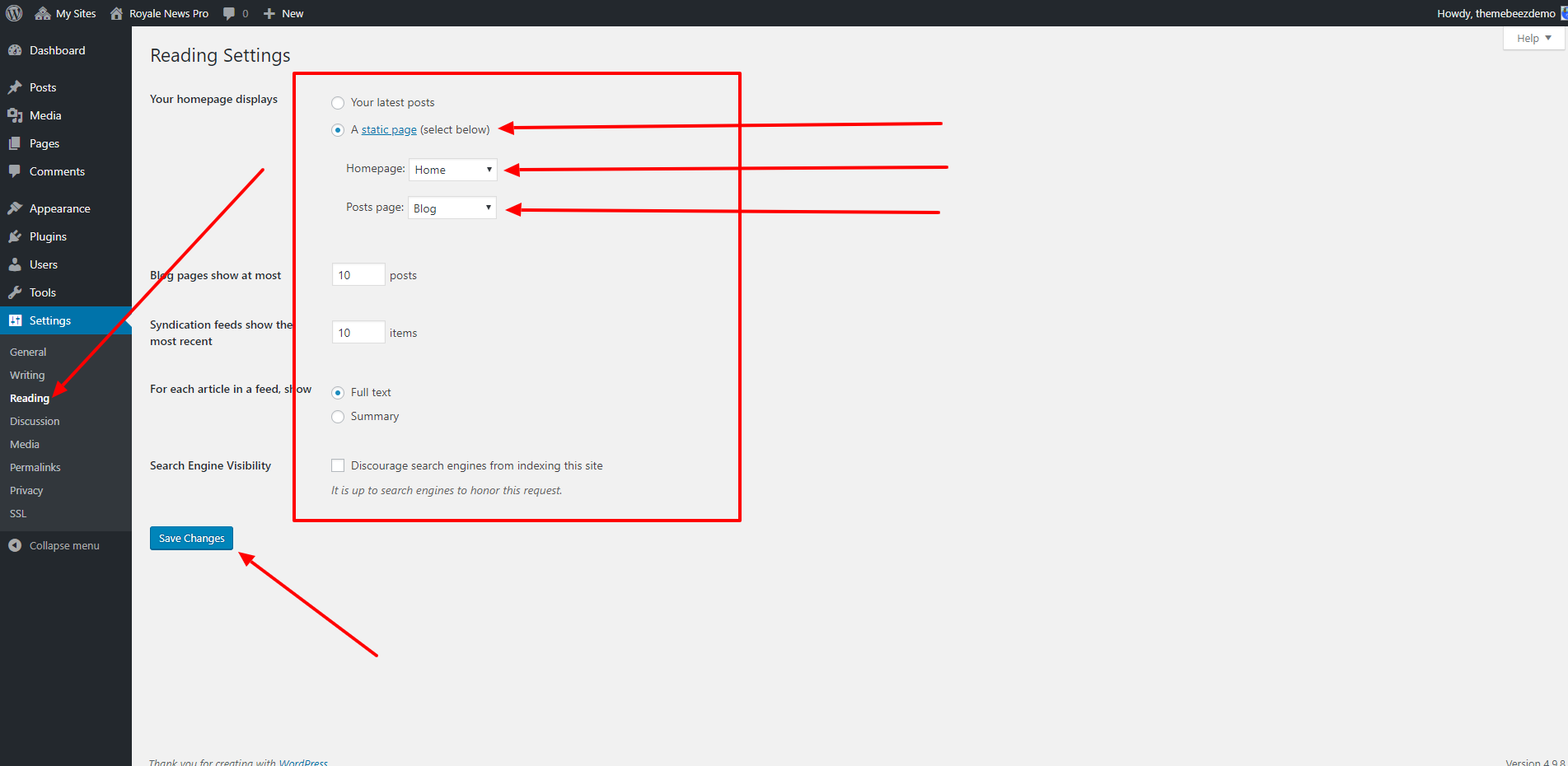 Choose static pages
Select Homepage & Blog pages that you just created.
Now click save button.
It's done. Front page/ Home page has been activated along with the blog page in something like ( https://your-website-name.com/blog )
Cheers.
DEMO IMPOTR
Install plugin called "THEMEBEEZ : TOOLKIT"  which is shown in the recommended section.
After installing and activating, Welcome Message will be popup in your dashboard.
Click on Get Started or go to Dashboard >  Appearance > Royale News Info.
Install the plugins which are recommended from there and activate it.
It's time to import demo data. Go to Dashboard > Appearance > Import Demo Content or you can see option for Import Demo Content at THEMEBEEZ : TOOLKIT homepage.
Now, you can see different available demos and  click on import which you like most.
Wait ( approx: 3 – 5 minutes ) to get all data to be imported as per your internet speed.
When demo import is done, now its time to setup widgets, banner, menu and few other settings according to your requirements.
HEADER SECTION CUSTOMIZATION
Kindly check the video below.
BREADCRUMB CUSTOMIZATION
Kindly check the video below.
BLOGPOST CUSTOMIZATION
Kindly check the video below.
SOCIAL SHARING BUTTONS & RELATED POSTS CUSTOMIZATION
Kindly check the video below.
SIDEBAR SECTION AND FOOTER COPYRIGHT TEXT EDITOR
Kindly check the video below.
IMAGE SIZE IN ROYALE NEWS THEME
Royale News uses image of size 761px X 492px. Please upload image greater then this size. All the other thumbnail images used in theme will be automatically cropped. For more information on image size and some issues that you may in some case please go to https://themebeez.com/support-forum/
Looking for something that's not in documentation ? or you you have custom questions ? Please ask us in our support forum.